Differences between a public hot tub and a private one
What is the difference between public hot tubs and private hot tubs? With public hot tubs from the Aquavia Spa brand, anything is possible! At Aquagrup we are specialists in hot tubs, and we are here to help you throughout the purchasing and installation process for your hot tub. We will give you all the key points to help you figure out whether you need a public or a private hot tub.
What is a public hot tub?
As the name suggests, a public hot tub is available for use by several different people and a high frequency of users. It may also be known as a commercial hot tub. Public hot tubs may be installed both indoors and outdoors, and they can either be fitted or just placed directly onto the existing floor. They are perfect for hotels, country homes, gyms, boats and any kind of public space, and all of these locations will need to comply with the current legislation in each autonomous community or municipality.
The difference between private and public hot tubs essentially comes down to regulations. Hot tubs for private use may be connected to the mains electricity of a private home, filled with water and put to use with no complications. Since there are no particular hygiene regulations for water treatment with hot tubs located in private homes, it is much more straightforward to maintain and install equipment for private use. This is why many country homes struggle to decide whether to install a private or a public hot tube.
Many people are unsure if they can install a private hot tub to be used within a public space. The regulations are very strict in this case: if it is not a space for private use (understood as a private home), you will need to install a professional hot tub that conforms to the characteristics and regulations for public use.
What are the characteristics of a hot tub for public use?
Hot tubs for public use are designed to be in constant use and to offer the best performance possible, and it must be able to maintain the bathing water at optimum hygiene levels. As such, there are several major differences between the internal equipment of private and public hot tubs, making them entirely different from each other.
We will now explain the main differences between these different types of hot tubs!
Private hot tubs may use different filter systems and work with either a cartridge or a sand filter, and, as opposed to public hot tubs, they don't require any kind of external machinery. All the machinery can be hidden within the body of the hot tub.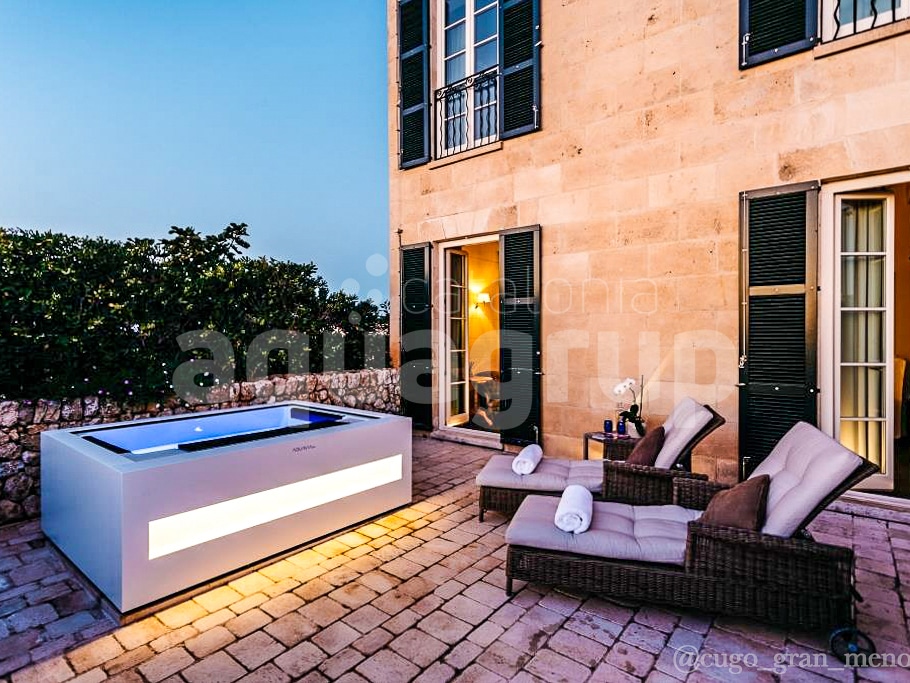 Public hot tubs have a high filtration capacity, guaranteeing that all of the water in the hot tub is filtered twice every hour. Crystal clear fresh water every hour! As a point of comparison, the water in a public hot tub receives the same hygiene treatment as the water in a public swimming pool. This is both essential and compulsory to comply with hygiene regulations.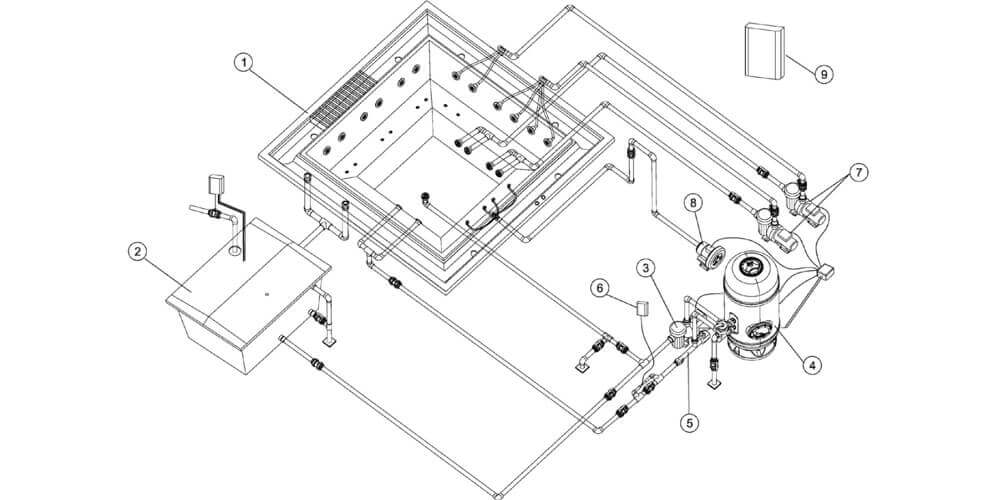 Automatic control of the water level! All public hot tubs contain a compensation tank with a valve, which regulates the water level. This combination of a compensation tank and valve is able to maintain a constant water level in the hot tub. It avoids any fluctuations in water level caused by changes of volume due to different numbers of users in the hot tub, and it also enables the water to be filtered automatically. There's no need to worry about the water level in your hot tub, as this valve will make sure it's always perfect!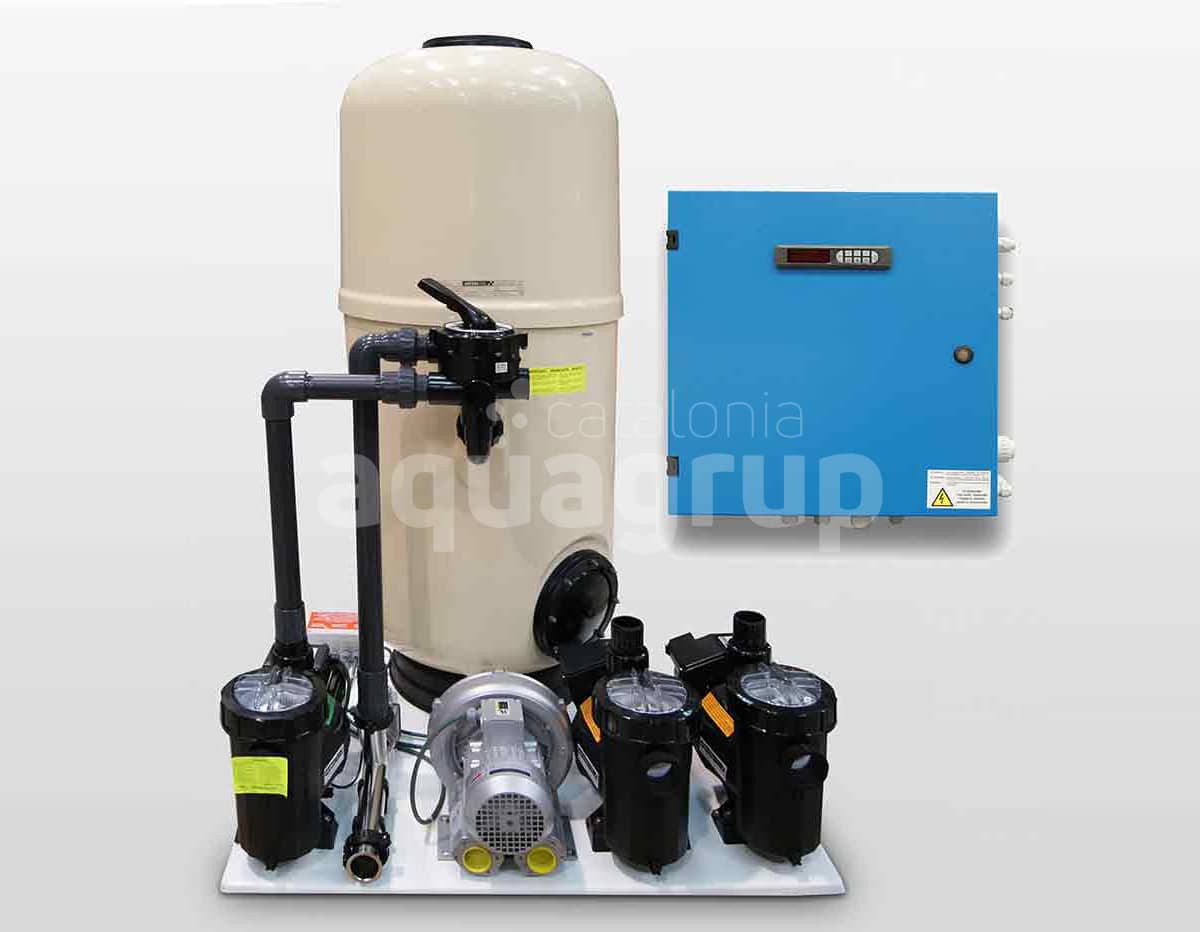 With hot tubs for public facilities, the heating system will usually be about twice as powerful as a private hot tub's system. The machinery used in public hot tubs is completely different to the machinery in private hot tubs; the filtration system is more powerful, being more similar to the purification system in a swimming pool than that of a domestic hot tub.
The water and air massage pumps and filtration systems are designed to work 24 hours a day. As such, all the components undergo professional quality testing, to make sure they are suited for continual and intensive use.
Public hot tubs have an overflow system that maintains the same water level, no matter how many people are inside! This system also removes any impurities from the surface of the hot tub water and improves the water quality.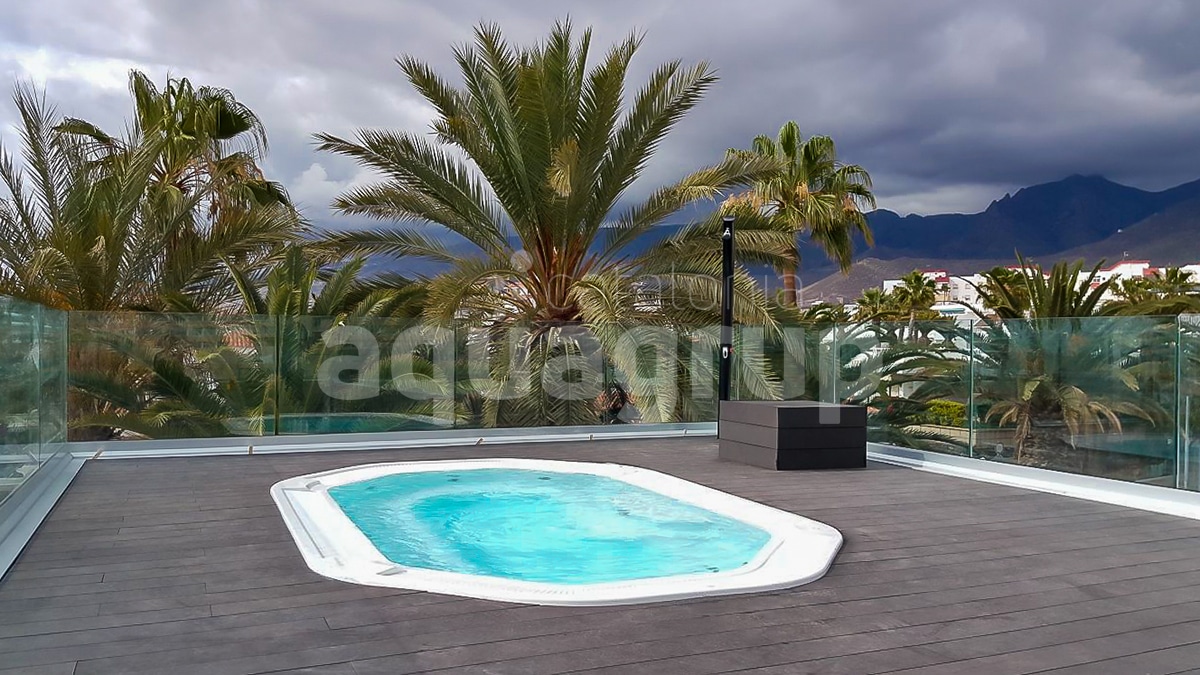 Another difference between public and private hot tubs is that public hot tubs have to be installed according to regulations for public use, with a minimum flow rate per hour to ensure the water is filtered properly, automatic controls to keep the water in perfect condition and disinfection of the hot tub water. They must also be installed by professionals who are qualified to carry out this kind of work, to ensure that installation regulations are properly met.
Various finishing options! Choosing the material and colour for your hot tub interior is a difficult decision. At Aquagrup we offer all sorts of different finishes and colours, so you can make sure your hot tub fits in with the design of the surrounding space. The acrylic, mosaic and stainless-steel interior finishes are made of the very best materials available for public hot tubs, offering the highest quality so that all you need to worry about is choosing your favourite colour.
Both public and private hot tubs can now be installed without complications. Thanks to the latest technology and the new materials available on the market, hot tubs can now be purchased entirely finished and then just installed on site. These types of hot tubs don't take long to install; the project will be finished and up and running in no time, so you will be having fun before you know it.
Nowadays it seems unthinkable to go to a luxury hotel and not find a hot tub or wellness facilities. It would be strange even for country houses to not offer a small hot tub or jacuzzi to offer their customers that little bit extra. Some of our customers within the tourist sector have told us how they have updated their hotel or country house by adding a hot tub, thus finding a way to add extra value during the off-season and stand out from the competition.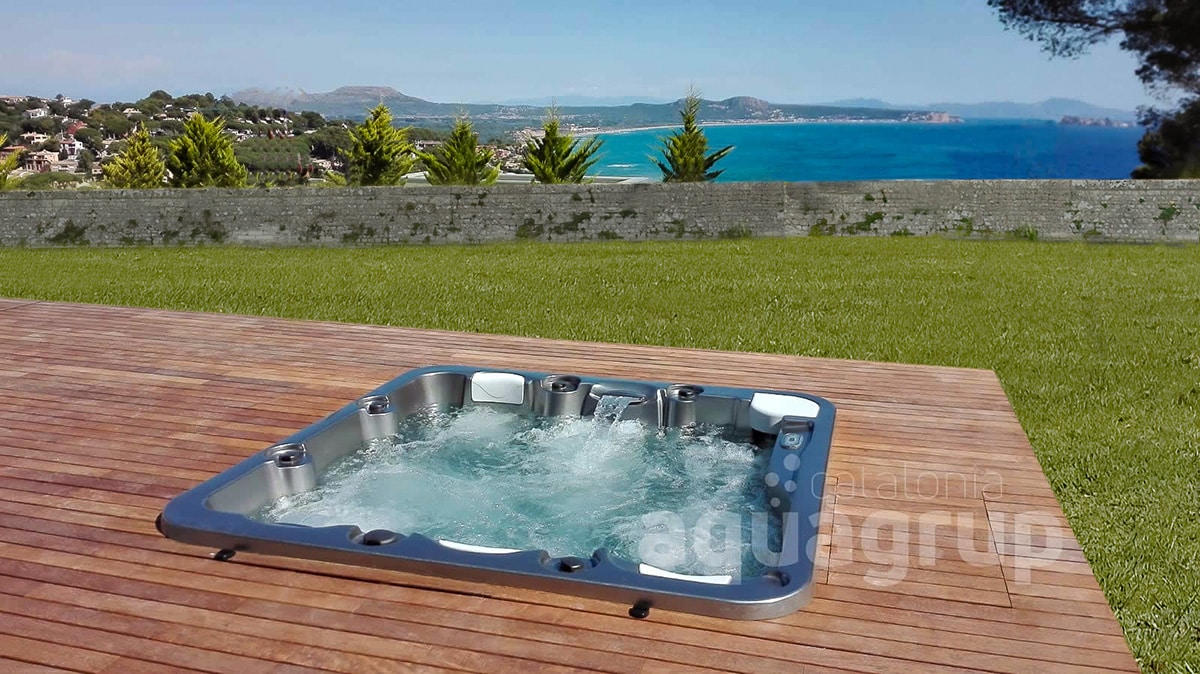 And that's it! Now you know a bit more about hot tubs for public use, their characteristics and how they differ from domestic hot tubs. How about giving your facilities a revamp? Adding a hot tub to your life will offer significant added value for both you and your customers, making you stand out from the competition.
So what are you waiting for? Get in touch and we'll be delighted to answer all your questions. We are specialists in the installation of public hot tubs in hotels, country houses, gyms and wellness centres!