Jacuzzi ® Delos
Jacuzzi® Delos has 4 large seats, one reclining to completely immerse the body in the water and achieve a totally relaxing experience. Power Pro jets create a circuit of progressive intensity as they are ergonomically located and thus act optimally on all areas of the body. This jacuzzi also includes an elegant waterfall that massages the neck and shoulders.
The Jacuzzi® Delos has a minimalist and contemporary design, with a wider edge for easy access and the addition of comfortable headrests.
This model is also available in Jacuzzi® Delos Pro, with an advanced hydromassage, and Jacuzzi® Delos Pro Sound, with an audio system.
SERVICE IN ALL SPAIN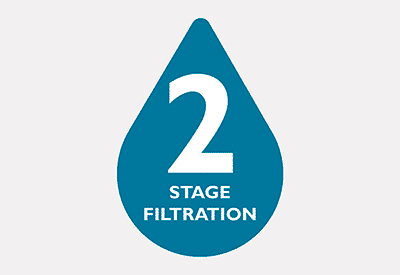 2 stage filtration
Optimal, easy and practical filtration that can be pre-programmed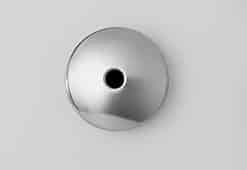 Blower
Very pleasant air bubbles that offer a softer massage. s for City Spa, Flow and Alimia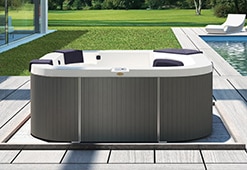 Design and finishes
Surface-mounted or built-in, with or without skirts, the jacuzzis in this category have been designed and designed for indoor or outdoor use as furnishing accessories.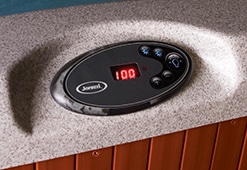 Digital control panel
Easy-to-use, one-button control panel with pre-programs for easy maintenance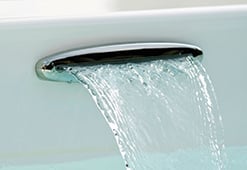 Integrated elegant waterfall
A minimalist waterfall in a contemporary style, for a relaxing hydrotherapy session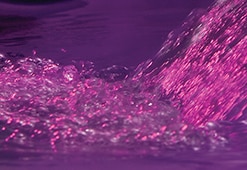 Led lighting
Advanced ProLite underwater lighting for chromotherapy and cupholder and headrest lights produce an atmosphere suitable for any environment
4 seats (1 reclining seat)
Optional headrest
Optional cushion
16 Nozzles
LED control panel
White lighthouse
Rectangular box skimmer
2-speed pump
Self-draining shell
Winter Pro Kit (optional)
Spa Pack Performance (optional)
ClearRay™ (optional)
Winter Pro Kit
Dimensions 215 x 190 x 80cm
Type of jet PowerPro™
People 4
Sun lounger Si
Related spas