Jacuzzi ® J-575
The intertwined design and essence characterize the J-575 Jacuzzi as an iconic central spa.
This jacuzzi has space for 5 to 6 people and has a dynamic hydromassage with 49 PowerPro jets carefully designed to give a general massage. In addition, it includes the RX chair, a new enveloping experience with deep tissue massage jets designed for the back and hips, softening the options of less strong jets on the back of the legs and on the feet, two great FX.
To stimulate the muscle tissue in the hips, the spa features directional jets that create a relaxing effect, while comfortable armrests offer a pulsating massage to the wrists.
In addition, the Jacuzzi J-575 features multicolor internal perimeter lighting and lighting behind the dual waterfalls that join the view, as well as sound to create a relaxing environment that allows you to create a perfect experience for your state of mind. cheer up.
New Curvalux technology has been incorporated, which offers resistance to the elements. This technology mimics the weave pattern of modern designer garden furniture, adding innovative exterior corner lights and a concealed skirt system that simplifies maintenance access without compromising clean lines.
The J-575 spa, with capacity for 5 to 6 people, is made with the highest quality Jacuzzis. In addition, it is a range of modern design and has a unique hydromassage experience.
SERVICE IN ALL SPAIN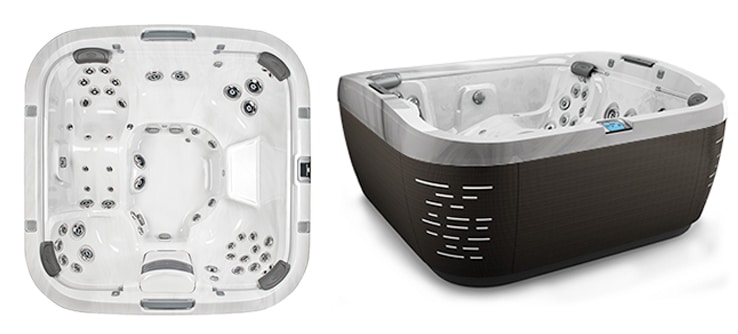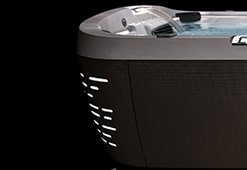 Curvalux skirts
A very modern technology with a fabric effect, designed to match the style of your outdoor furniture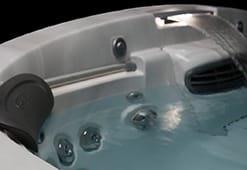 Internal ProEdge lighting
Fiber optic technology that offers a relaxing atmosphere, adapting to the mood of each one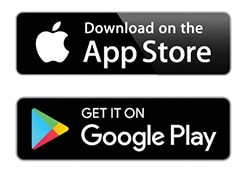 ProLink App
Download the app that allows you to control your spa from anywhere, so that it is ready as soon as it arrives and it is time to use it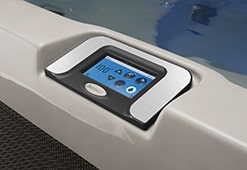 ProTouch glass control panel
Glass touch screen control panel, easy to use, waterproof, located on the upper part of the edge of the Jacuzzi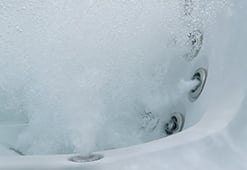 RX therapeutic seat with exclusive FX-D jet
This seat features a large adjustable hip jet for a luxurious massage experience.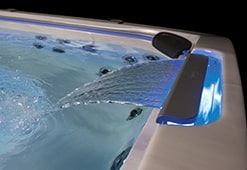 Waterfalls Watercolor
It has a double waterfall, one of which has a large rotating jet to give a direct and relaxing back massage.
Indoor installation
Outdoor installation
5-6 seats (1 reclining seat)
4 Headrests
53 nozzles
2 waterfalls of colored water
ProEdge lighting system with multi-color waterfalls, integrated corner lights, interior LED lighting
Bluewave Spa Stereo System (optional)
ClearRay™
ProClarity System
1 speed pump (2)
1 Circulation pump
Mean volume of water l 1685
Power supply 230-240 VAC - 50HZ 20A
Net weight 407 kg
Spa weight at full load 2470 kg
Curvalux™ Skirting
Dimensions 231 x 231 x 92cm
Type of jet PowerPro™
People 5 - 6
Sun lounger Si

Related spas