Jacuzzi ® J-445
With maximum comfort and luxury in mind, the Jacuzzi® J-445 has been carefully designed to provide optimal hydrotherapy. Distinguishing this spa and optionally included in the range, ProFinish cabinets offer corner lighting and are architecturally inspired to look great in any setting.
This mini pool is ideal for everyone, thanks to its 6 seats of different heights, and offers everything from a shallow bath to a deeper dive. PowerPro jets are included in each seat to provide an effective and luxurious hydromassage program. The RX seat provides the deepest immersion available in any Jacuzzi®, plus offers a Swedish back treatment mixed with calf treatments. For the neck, shoulders, and back, the FX-12 therapy seat is perfect because it provides adjustable hydromassage.
A broad layer of water from the waterfall soothes the shoulders while the stream invigorates the upper back to relieve stress and tension. The wide waterfall seat mixes a single stream and cascading water for a soft tissue experience.
The J-445 spa features a high back that helps to soak in heat even when the room temperature is colder, and, in addition, the high part provides additional privacy for guests.
It also offers adjustable pillows that provide the perfect place to rest your head and add better relaxation for people of different heights. Another modern innovation includes dual-use illuminated diverter knobs that are designed to double as cup holders for added comfort.
In addition, and to complete the premium experience, the J-445 whirlpool offers the ProTouch control panel. This multi-function touch screen control panel is easy and simple to use and provides a variety of user settings to optimize performance and maintenance requirements.
SERVICE IN ALL SPAIN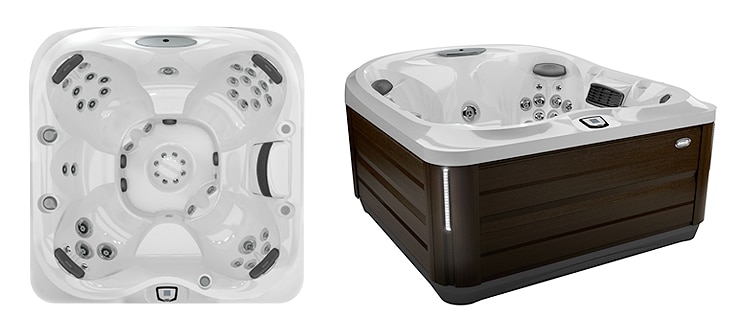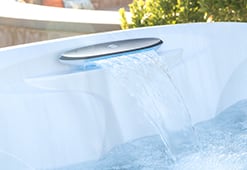 Broadleaf cascade
The waterfall provides a soothing waterfall on your neck and back, plus it comes built into the high-back Jacuzzi silhouette, with high-quality, backlit LED lighting,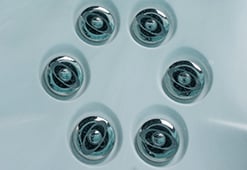 BX and FX-L PowerPro Jets
These exclusive jets in the range provide an advanced massage to the lower back and legs, ideal for recovering after a long day at work.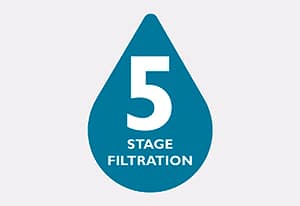 Filtration with 5 stages
Adjustable, high-quality filtration to meet different requirements and offer optimum safety and cleanliness of the water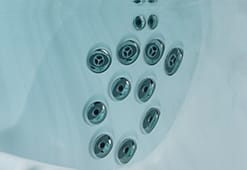 FX-12 Therapy Seat
This seat helps relieve back and neck pain as well as tension in the wrists and feet for a full-body massage experience.
ProFinish Cabinets
The gorgeous ProFinish cabinet design features optional architectural-inspired corner lighting, drawing attention to modern design.
ProTouchControl
Simple and easy to use, this full color ProTouch control panel helps you monitor the status and control all aspects of your hot tub at the touch of a button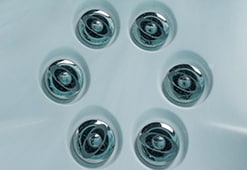 RX Jet Therapy Seat
This seat offers a Swedish-type hydromassage that helps both relax the back muscles and improve circulation.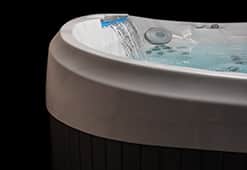 Sleek design with raised spa rim
Optimal design for an aesthetic and functional appearance so that it adapts to any environment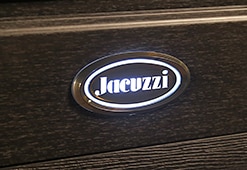 Spa operation indicator
Located in front of the jacuzzi, it is aware of the benefits and indicates if assistance is necessary
Indoor installation
Outdoor installation
6 seats
4 Headrests with light
46 Nozzles
Waterfall
LCD control panel
Light System - Multicolor (1)
ClearRay™
Circulation pump
1 speed pump (1)
1 speed pump (2)
ProClarity System
Bluewave Spa Stereo System (optional)
SmartSeal® 2 insulation (optional)
CLEARRAY® PRO3TECT™ (optional)
Proclear System
Dimensions 213.36 x 213.36 x 95.25cm
Type of jet PowerPro™
People 6
Sun lounger No

Related spas