Jacuzzi ® Santorini Pro
The Jacuzzi® Santorini Pro has a contemporary design, with very clean and soft lines, in tune with the latest trends in interior design. Designed by Kaluderovic & Condini.
It has a double lounger, to submerge the whole body, and seats for 5 or 6 people. It offers an advanced hydromassage system for the whole body, thanks to its 29 PowerPro jets and 14 blowers. For greater comfort and easy access, the edge is wider and with large headrests.
This Jacuzzi® can be installed on the surface or recessed.
Available with an audio system, with the Jacuzzi® Santorini Pro Sound model.
SERVICE IN ALL SPAIN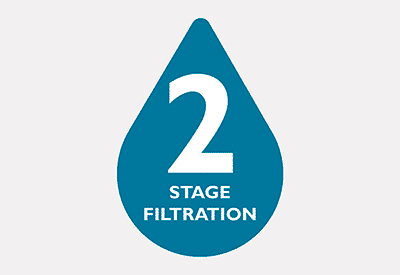 2 stage filtration
Optimal, easy and practical filtration that can be pre-programmed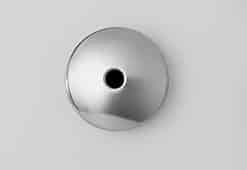 Blower
Very pleasant air bubbles that offer a softer massage. s for City Spa, Flow and Alimia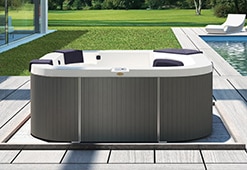 Design and finishes
Surface-mounted or built-in, with or without skirts, the jacuzzis in this category have been designed and designed for indoor or outdoor use as furnishing accessories.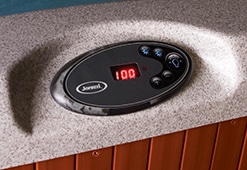 Digital control panel
Easy-to-use, one-button control panel with pre-programs for easy maintenance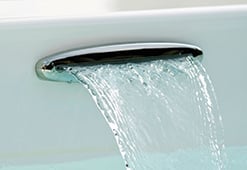 Integrated elegant waterfall
A minimalist waterfall in a contemporary style, for a relaxing hydrotherapy session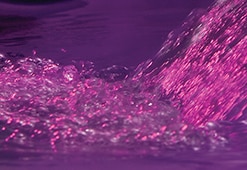 Led lighting
Advanced ProLite underwater lighting for chromotherapy and cupholder and headrest lights produce an atmosphere suitable for any environment
Outdoor installation
5 seats (2 reclining seats)
3 Headrests
Optional cushion
29 Nozzles
Waterfall
LCD control panel
Light System - Multicolor (1)
With heater (standard depending on version)
With heat exchanger (standard depending on version)
Rectangular box skimmer
ClearRay™
1 speed pump (1)
1 speed pump (2)
Circulation pump
Self-draining shell
Aromatherapy
Winter Pro Kit (optional)
Spa Pack Performance (optional)
Dimensions 230 x 215 x 90cm
Type of jet PowerPro™
People 5-6
Sun lounger Si
Related spas