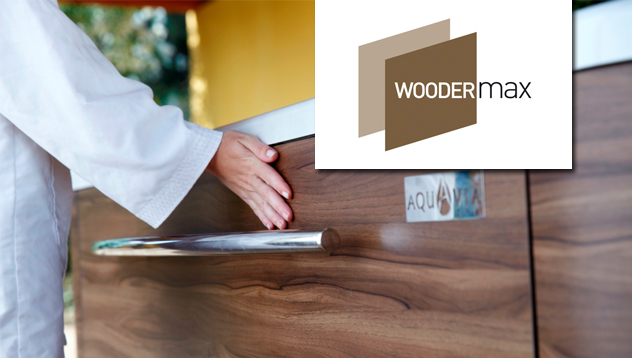 The WOODERMAX cabinet is exclusive to the Aquavia Spa brand. Designed by our team of engineers, it gives our spa cabinets a unique look, smooth to the touch, elegant and with an unbeatable finish.
The WOODERMAX cabinet has been designed for both spas installed indoors and outdoors.
This high quality cabinet is unique to the market. The panelling made of a high-pressure laminate ensures the cabinet has a long service life.
WOODERMAX cabinets come in two finishes:
– Walnut. This finish looks like natural walnut wood so it will blend in perfectly with any outdoor setting.
– Graphite. This sober, elegant finish was designed to fit in with stylish, modern interiors.
The greatest advance introduced to the WOODERMAX cabinets is the way they are attached to the metal structure: the screwless fastening system developed by us. No tools are required for the assembly of the doors and panels, so this can be done by just one person. As they are just as easy to take off as to assemble, any maintenance jobs that need doing will be hassle-free.
WOODERMAX is the definitive solution for your spa: a cabinet without any screws, an unbeatable finish, totally user-friendly and incredible quality.