The stress and demands of daily modern life call for an escape route and for us to recharge our batteries. For many it is exercise, for others a good sleep … Also for most of us, a time to rest and relax in a spa. If you identify with the latter, you are one of those who would choose to install it in your country house to complement an ideal place for relaxing the body and connecting with nature and silence, right? Now, the dilemma or the million dollar question is: swim spa or jacuzzi? Before deciding on one or another type of outdoor relaxation bath, we will tell you about the advantages of each one and why to choose it. Keep reading and you will discover the details.
Swim spa versus outdoor jacuzzi: that's the question
When opting for one or another product it is important for you to think about what you want and need in your installation. It is also important to know what use you will give to each one. When you are clear about these points you will now be able to select the right one for your comfort and that of your family. But let's see the benefits of each one.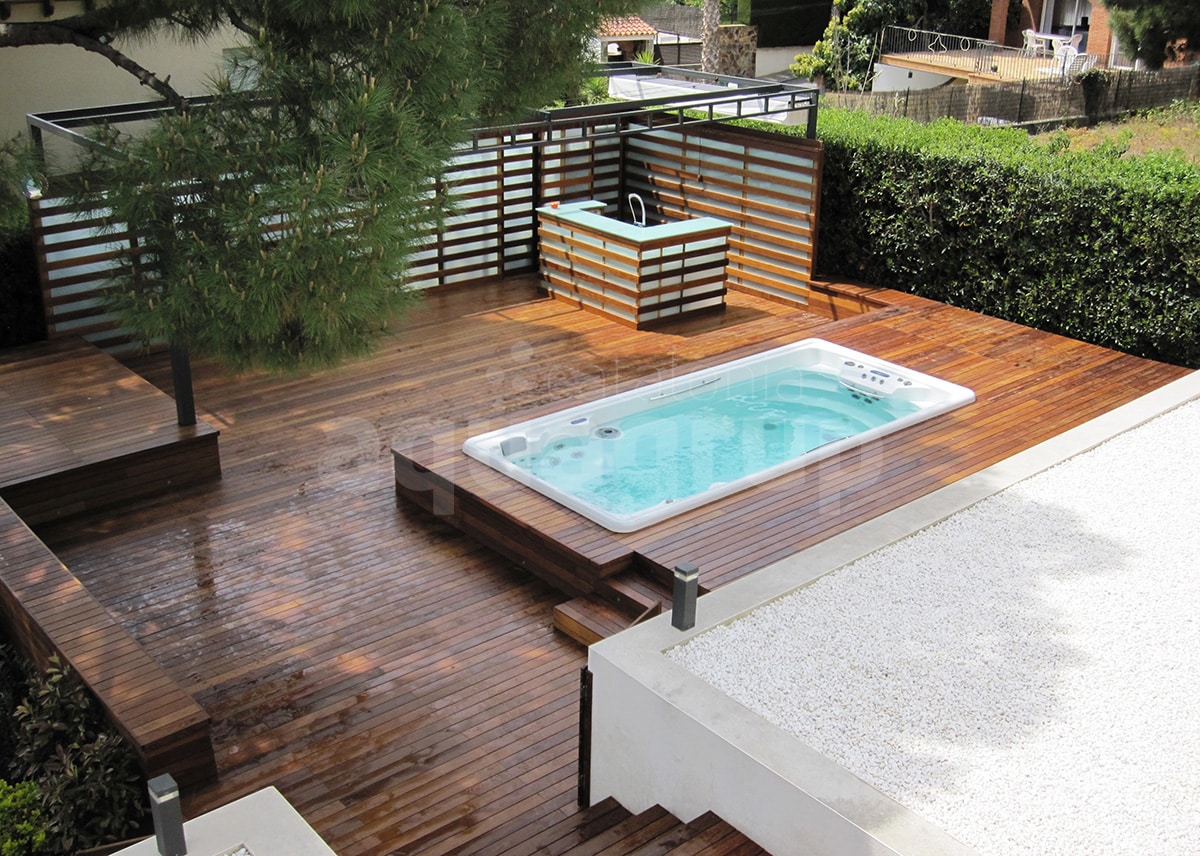 Advantages of the swim spa
It is an absolute novelty in "aquatic therapies", in other words using water as therapy. Hydrotherapy, rather.
Swim spa, also known as endless pool, is a hot tub pool that is larger than a simple jacuzzi. The swim spa has a water current and speed regulator, which is an added value. This makes it possible to convert the usual hot tub into a constant counter-current swimming pool. It is an alternative to traditional use and a source of entertainment in itself. It is what is usually called today: swim spa. For lovers of relaxation and, at the same time, of the adrenaline that swimming rekindles, it combines the best of the traditional jacuzzi with the advantages of a professional swimming pool. All in a limited space, which makes it a practical and multifunctional product.
What is more, the most sophisticated models make it possible to use both modalities at the same time. These versions also have Bluetooth and multimedia devices. Incredible, right?
Flat and stable ground is required for its installation, on a patio, a terrace or an internal area of the country house.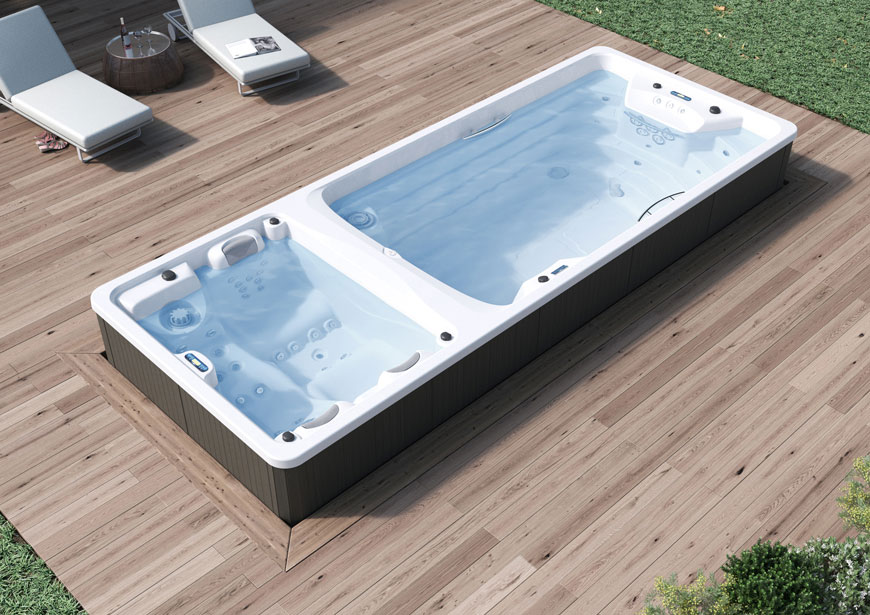 The pros of an outdoor jacuzzi, the familiar one
Perhaps because it is a product known to all, it is the most popular of the two options that we are presenting to you today. Indeed, its therapeutic use and functionality are popular and make it the star in the hot tub world and its great diversity and range of related items. It is worth adding, also that its fame has made its price drop significantly. Definitely, in the past, having a jacuzzi in the house was an eccentricity; today it is affordable for any budget and is just one more decorative object in a house's master bathroom.
As for the swim spa, the jacuzzi (or hot tub) is more discreet and smaller. That does not mean that it fails to fulfil its specific function of providing well-being and relaxation from a system that releases pressurised injected air through hot water jets.
The most modern outdoor jacuzzi equipment allows for perfectly regulating the water temperature and the hot tub functions. They can be installed anywhere, because they take up very little space. Most important of all, their cleaning and maintenance are simple and easy to carry out.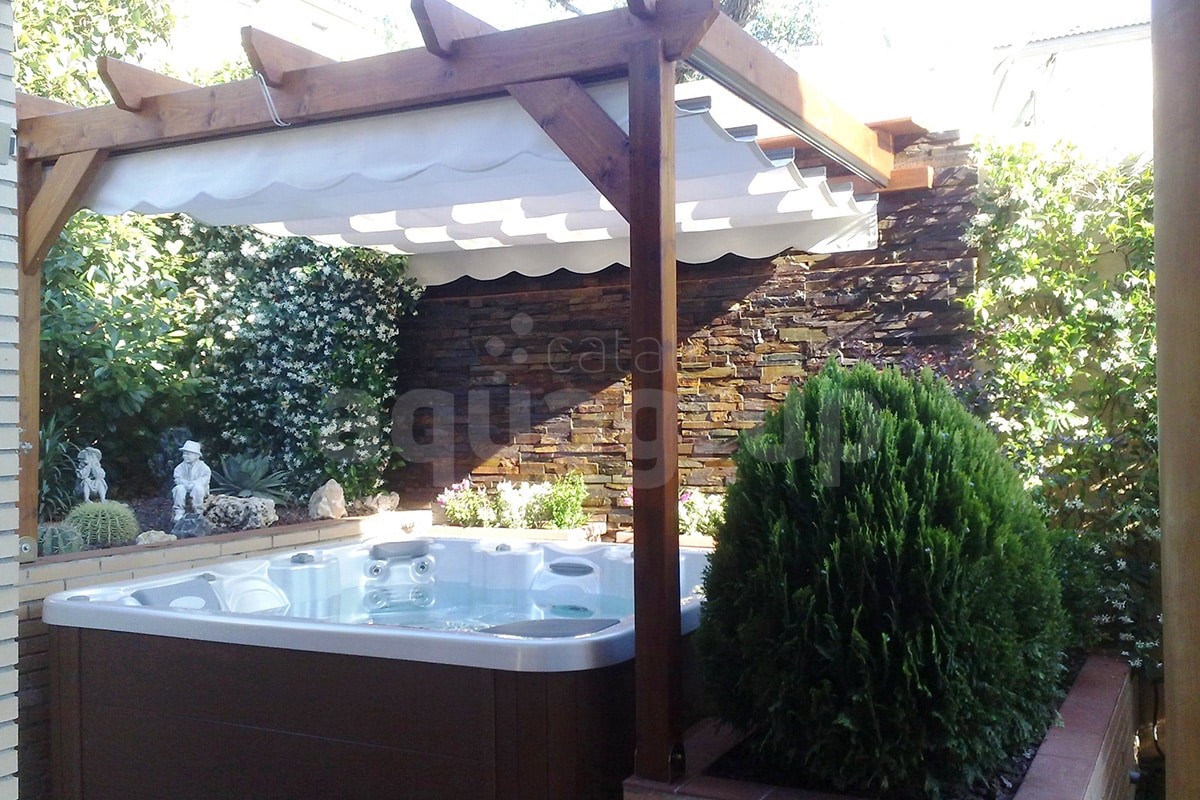 Swim spa and jacuzzi: what do they have in common?
Swim spa or jacuzzi, both products, whatever their shape and size, are excellent options to ease tension and spend a pleasurable moment. They offer multiple benefits for people's health. The benefits of hydrotherapy, scientifically proven since antiquity. In both a swim spa and in an outdoor jacuzzi the water jets help to relax the body, offering pleasant sensations and well-being. As a result the muscles stop contracting. In addition, tightness in lower limbs and back as well as joint pain are relieved. At the same time, the digestive system and the circulatory system benefit substantially thanks to the hot tub at a temperature between 35 and 37 °C (degrees Celsius). On the other hand, they encourage a good sleep (say goodnight and say "goodbye" to sleep disorders) and help to get rid of stress symptoms.
But attention: the advantages are even greater. Many pain and stress relief specialists recommend both swim spas and jacuzzis to their patients. They consider them complementary therapies combined with any type of rehabilitation and elimination of symptoms from contractures, sprains or hip surgery, for example. This is because we know that the hot tub significantly improves these conditions and reduces some chronic pains typical of arthritis, fibromyalgia or some inflammatory processes. This is very positive, since it prevents people from taking strong analgesics with multiple side effects.
To be clear: both favour relaxation and relieve the loads that accumulate in different parts of the body (back, spine, legs, knees) due to stress and life flat out. As if this were not enough, aesthetic benefits can be added to the health benefits. These two home spa products tone the body, allow for losing weight and eliminate traces of cellulite. In addition, they clean the skin, even without you proposing it. Spa water (at hot temperatures) purifies the dermis, opens the pores to eliminate waste and improves the blood supply to the skin, favouring cell regeneration. This turns swim spas and jacuzzis into two powerful anti-aging agents. Eureka!
In short, by buying a swim spa or jacuzzi you will be investing in your health and that of your loved ones. Without a doubt, the best investment.
Why should you install a spa in a country house? It's plain to see that they are becoming more and more popular all over the world and that they are a great advantage over other accommodation that does not have a space for relaxation. Without a doubt, installing a swim spa or a jacuzzi makes the difference.
The scientifically proven benefits provided by the use of a spa for the health of the people make these products an urgent need for any tourism and relaxation site located in a natural environment. Indeed, bathing in one of these outdoor hot tubs, in addition to providing pleasure, does your body a lot of good.
So, whatever you choose to buy, you know that the house will not be the same with or without a wellness or spa area. For this purpose there are these sophisticated devices planned and designed to make the most of a stay in a dream rural destination.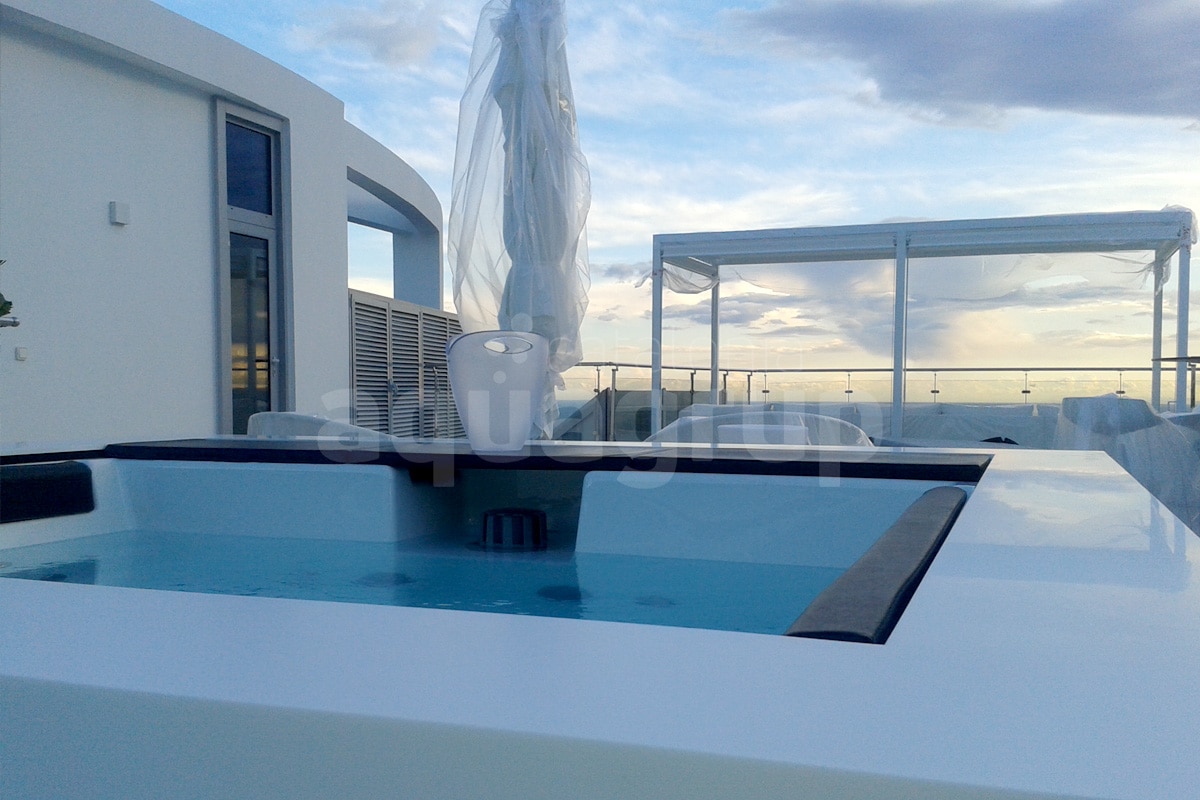 The best option according to your needs
To define whether to install a swim spa or a jacuzzi in your country house, evaluate the following items. This will help you make the best purchase decision.
Space you have available. It is one of the core points to consider. There are many outdoor tub sizes on the market. However, we know that a swim spa requires more space than a jacuzzi. If there is limited space for its installation, jacuzzi will be the perfect alternative.
Budget available for outdoor tub with whirlpool. Be clear on how much you want to spend on your outdoor hot tub. Grab a pen and paper or an Excel file on your computer. Make an actual budget. Much of your choice will depend on it. Although there are different models and brands and very variable costs depending on these it is well known that a swim spa is objectively more expensive than a jacuzzi.
Need for use and habits of users. The swim spa and the jacuzzi are similar items, with similar uses, of course. But there are differences in terms of their functionality. You must take them into account. To get a good buy ask yourself about your needs. Would you really use a swimming pool with swimming against the current? Are you a "creature of habit" and just crave a bath with common hot tub? Take all the time you need to figure out what use you would make of each product. If you succeed, be assured that you will invest your money well.
How much are you willing to invest in the maintenance of your swim spa or jacuzzi? Both require constant cleaning and maintenance to guarantee their useful life and proper operation. So, in your available budget you must include an amount for maintenance. What are we talking about? Chemicals that are used for frequent pool cleaning and frequency of water changes, among other things. While many models and different brands coexist in the market with their peculiarities the truth is that swim spa requires special care and, due to its size, results in higher costs. Do not lose sight of this fact.
How many people will share the space in the hot tub? Keep this in mind when choosing between a swim spa and a jacuzzi. If you are a loner, the jacuzzi will be good for you and your soul. If instead you are one of those who like parties with friends, barbecues and family celebrations, the swim spa will be your best choice.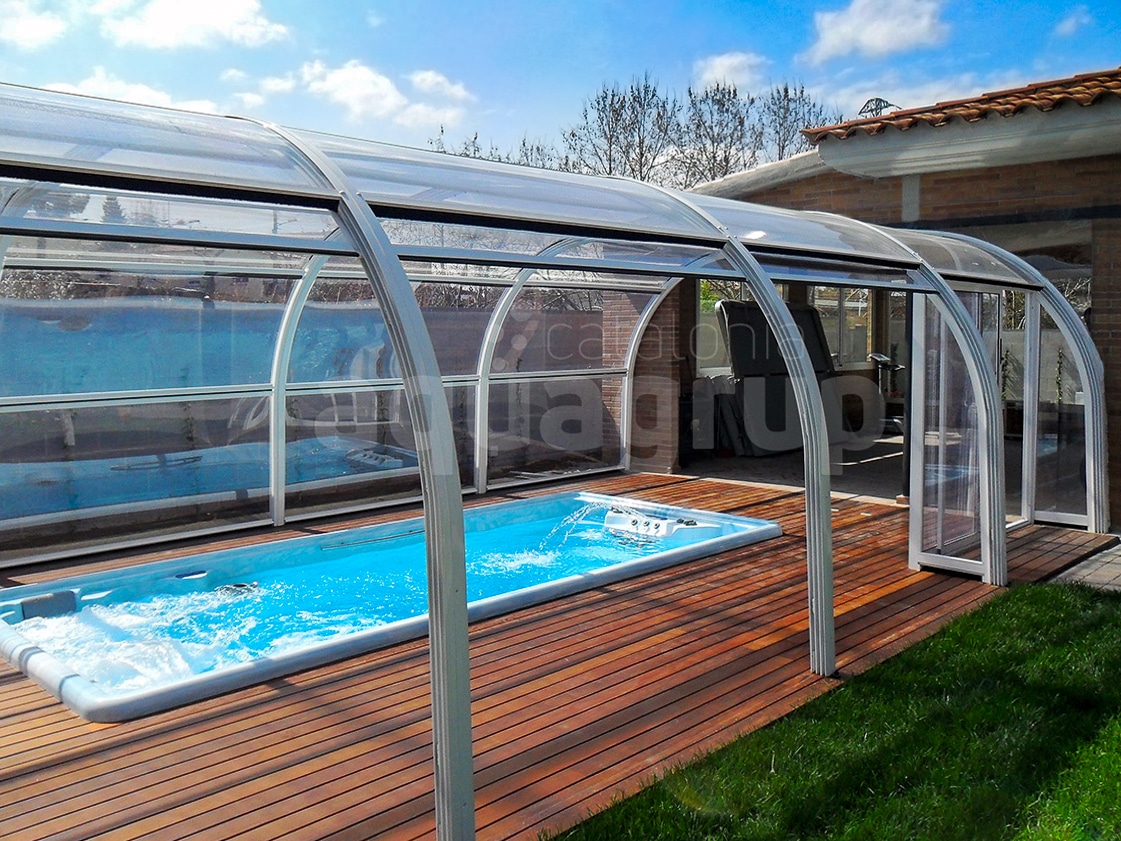 How to get the most out of your swim spa or your jacuzzi?
To make the most of your sessions in an outdoor hot tub and to make it an ultimate experience keep in mind the following.
Frequency. Try, as far as possible, to have hot tub sessions once or twice a week. The duration of these should be between 15 and 20 minutes. This will allow you to benefit from their multiple advantages. Even more if you suffer from chronic pain or transient ailments associated with stress.
Temperature. Swim spa and jacuzzi experts recommend that the water temperature does not exceed 37 °C. Water at a higher temperatures could damage your skin and lead to more disorders than solutions. Keep this in mind and do not expose yourself to unnecessary risks.
Parts of the body to be treated. When taking a relaxing bath in the jacuzzi or the swim spa or swimming in the latter, you should try to submerge the whole body, leaving your head outside. If it is a hot tub session it is best to support your head comfortably to rest the areas of the neck and spine. This will avoid the possibility of pain after the relaxing bath, which would be a great paradox. If you want to swim, there are no contraindications to submerging your head in the water.
The best complement for perfect and unique relaxation. Using aromatic candles or essential oils to add relaxing elements to the experience is a great idea. Also Zen or special music for reiki or yoga could improve the spa experience. In this way you will add benefits to your hot tub.
To ensure that the equipment remains intact like the day you bought it. Before taking a hot tub session you have to fill the pool or tub with water before turning on the motors. This way you will avoid their unnecessary use and the possibility of them being damaged. Be sure to never forget to regulate the intensity of the water jets and their position.
To finish it is worth saying that if you have considered all the points of this purchase guide be sure that you will make the right purchase decision, in keeping with your tastes and needs. Now you just have to install the chosen device (swim spa or jacuzzi) and get ready to enjoy the benefits of a hot tub in your country house. It will be your oasis away from the concrete jungle. You won't regret it!