Swimspa is the best solution for those looking to install or build a pool or any other water installation in their garden, terrace or within their home who have run into problems with planning permission.
Swimspa will not require any planning permission
In the majority of cases, a swimspa will not require any planning permission, except in some specific circumstances and in certain council areas. A Swimspa is understood as a portable element, which means that it is not considered a fixed installation requiring planning permission.
Another advantage of a Swimspa is that it does not involve any of the complex construction work required for the installation of a pool, which is normally governed by very strict regulations imposed by local councils.
All this means that the time taken to complete your pool project will be much shorter with a Swimspa, compared to building a pool. The difference stems from the fact that a Swimspa is transported on a tow truck and placed on a suitably sized slab of concrete, connected to the pre-installation that must have been previously prepared (electrical connection, water supply and drainage). That's what makes Swimspa the ideal product for those seeking an alternative to a heated pool, without the need for any significant construction work, planning permission or increased property tax.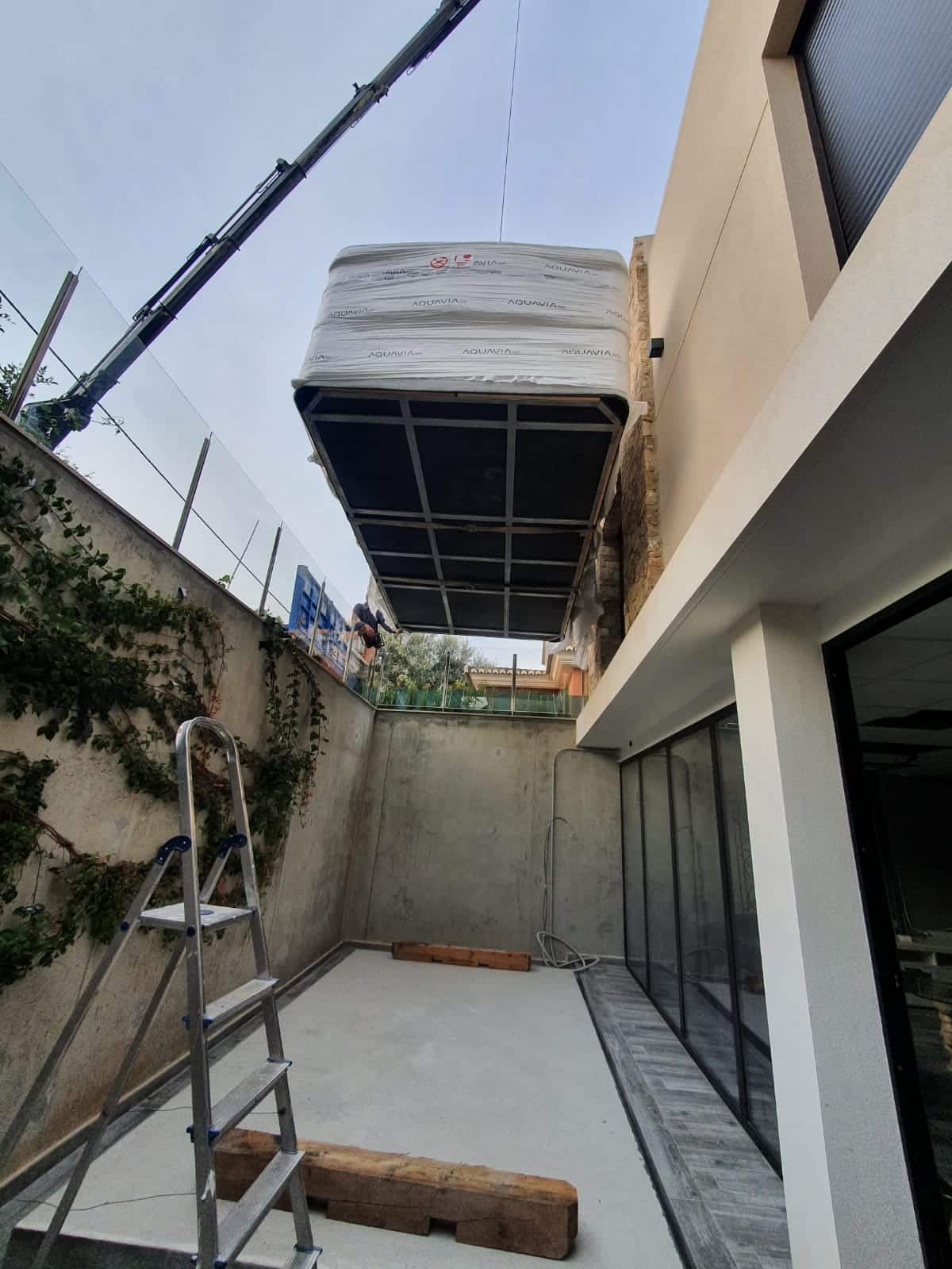 What is a Swimspa?
A Swimspa is a pool with a water-heating system that allows you to regulate its temperature. Swimspas measure between 4 and 6 m in length and 2.30 m in width, with a height of approximately 1.38 m.
Swimspa is a great alternative for lovers of water sports, as it can be equipped with a counter-current swimming system allowing you to practise swimming at various speeds. What's more, you'll have the option to add various different accessories to practise water sports, such as an underwater-bike kit, a rowing kit and the aforementioned counter-current swimming kit.
Once you're done exercising, it also features an integrated spa, where you can enjoy a moment of relaxation thanks to its system of hydromassage jets to help relax tired muscles.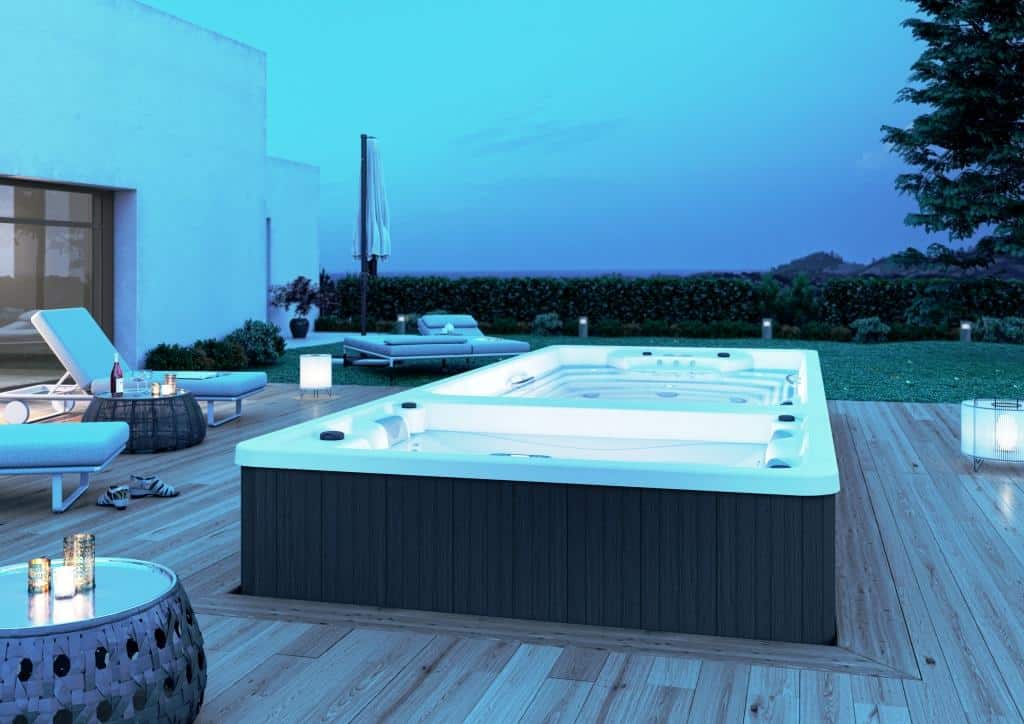 Advantages of a Swimspa
As we noted at the start of this article, the Swimspa requires no planning permission, as it is considered a portable element given that it is installed directly on the ground. However, other installation options are also available, such as semi-buried or buried flush with the ground, with the possibility to cover the pool with wooden decking in all variations, creating a kind of stage in the bathing area that allows us to access the water on level ground.
For all these options, we always advise owners to consult with their local council, as the auxiliary works may require planning permission or a building report.
Swimspas must be made from the best materials, both in terms of construction and thermal insulation. These materials are designed to improve energy efficiency and keep the heat generated in the most efficient way possible. Otherwise, we could be making a mistake, as the economic and environmental costs of installing inefficient products may be very high in the medium to long term.
Swimspas are above-ground, zero-construction pools with integrated hot tub
A swim spa is an elevated thermal pool with a counter-current swimming system which allows you to exercise or simply relax with its hydromassage jets, as it combines the best of a traditional hot tub with all the advantages of a pool. Read on to discover some of the benefits of these elevated pools:
They take up very little space. Although they are larger than a hot tub, they require less space than a conventional pool.
Easy installation: They may be buried, half-buried or flush with the surface, without the need for any construction work.
LED lighting: They offer night-time illumination via LED bulbs.
Hydromassage: Through water jets and bubbles, the Swimspa helps relax the body and muscles, reducing joint pain.
Adjustable counter-current: You can regulate the power of the jets.
Automatic cleaning: Swimspas come with a programmable filter system and an ozone or UV bubble generator that destroys bacteria and germs. The water is kept clean, disinfected and crystal clear for longer.
Versatile: You can use these both to relax and to exercise. What's more, you can even install accessories, such as elastic exercise bands, an underwater bike or a rowing kit.
Adjustable heating: Digital thermostat to keep your Swimspa's water heated to your liking.
For use all year round: You can install it indoors or outdoors, as its adjustable heating will allow you to enjoy your pool any day of the year.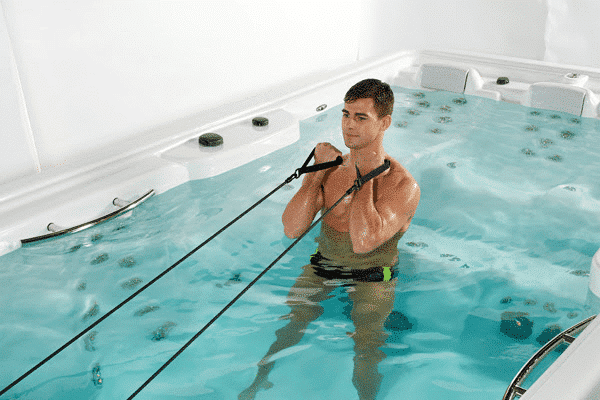 Zero-construction pools with heated hot tub
A Swimspa is a type of mini heated pool that you can enjoy all year round. Its climate-control system allows you to keep the water at a programmed temperature at all times. You can set the water temperature to your liking, allowing you to stay cool in summer and heat it up to 38°C in winter. What's more, this temperature-regulation setting will offer you a series of potential benefits for your body. Among others, you'll reduce stress and even get a better night's sleep. On the other hand, as well as being able to swim, the majority of models come with a hydromassage bathing area so you can enjoy a pool and spa in the same space. And all this without the need for any construction work.
Planning permission required to build a pool
Planning permission to build a pool varies according to each local authority, but, in general, councils will require the presentation of a location plan and site plan prior to the construction your swimming pool. This plan must contain:
Descriptive and constructive report.
Compliance with applicable building regulations.
Calculation of the structure and facilities.
Geotechnical information regarding the terrain.
Health and safety study, as well as a waste-management study.
Quality-control plan.
If the local council decides not to grant permission, you can always opt for a pool that does not require any planning permission – like a Swimspa.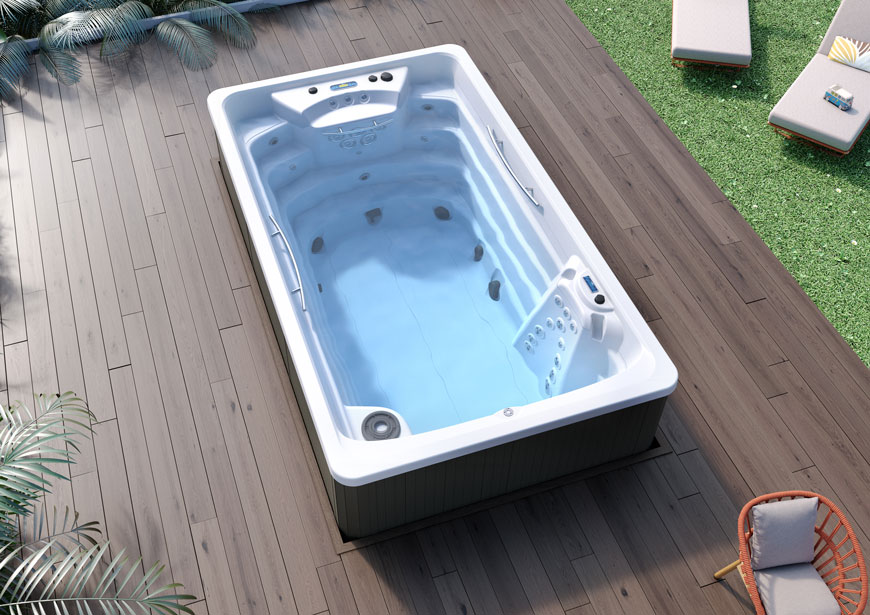 Investing in a Swimspa means investing in your health and well-being
With a Swimspa, you can enjoy your pool all year round – without the need for planning permission. You can swim, exercise or simply relax under the adjustable jets. You'll find it almost impossible to resist the pleasure of an outdoor spa all year round, even in winter. And although Swimspas are very versatile, they all guarantee maximum outdoor enjoyment whatever the weather or season. Luxury, well-being and health in a single product.