Swim Spa: swim against the current, at your own pace and at home
Imagine the freedom of enjoying a relaxing swimming session at any time, regardless of inclement weather, or having to travel to the pool. The Swim Spa, also known as countercurrent swimming pools, represent an innovative solution for those who want combine exercise and well-being with the comfort of your home. In this article, we will explore in depth the wonderful fusion of countercurrent swimming, hydromassage and comfort that Swim Spas offer, allowing you to make the most of the possibilities of swimming, at your own pace and in your home.
Swim Spas are much more than mini pools. They are spaces where you can find balance, relaxation and well-being. If you've ever wanted to maintain an active lifestyle, relieve stress, or simply spend quality time with your family, you've come to the right place. In this article, we will explore in detail how Swim Spas have transformed the at-home swimming and wellness experience, offering a versatile option for those seeking a personalized water sports experience.
Delve into the world of Swim Spas and discover why they have become the ideal choice for those looking for a tailored swimming experience, all from the comfort of their home. Whatever your reason for considering a Swim Spa, you will find an answer adapted to your needs, allowing you to enjoy water and relaxation in a unique and privileged way.
Swimming against the current at home: unmatched advantages
One of the most outstanding advantages of having a swim spa in your home is the ability to swim against the current at any time. This feature offers notable benefits that not only enhance the swimming experience but also contribute to the overall well-being of you and your entire family.
Swim at your own pace
Swimming against the current in a swim spa allows you to exercise at your own pace, regardless of your skill level. You can adjust the intensity of the current to suit your needs and fitness goals. From experienced swimmers to beginners, everyone can find a challenge suitable to their fitness level.
Low impact exercise
Unlike other sports activities, which can put stress on the joints, swimming against the current in a swim spa is a low-impact exercise. This makes it a safe and effective option for people of all ages and physical conditions.
Versatility
In addition to exercise, swimming against the current at home provides a versatile platform for other types of water activities, such as aqua aerobics or water yoga. This adds an extra dimension of fun and wellness to your workout routine.
No climate restrictions
With the ability to heat the water, you can enjoy swimming against the current all year round, regardless of weather conditions. This eliminates seasonal restrictions and gives you unmatched flexibility.
Privacy and comfort
The convenience of having a swim spa in your home means you can swim at your own pace without having to travel to a gym or public pool. Privacy and accessibility make the swimming experience even more enjoyable.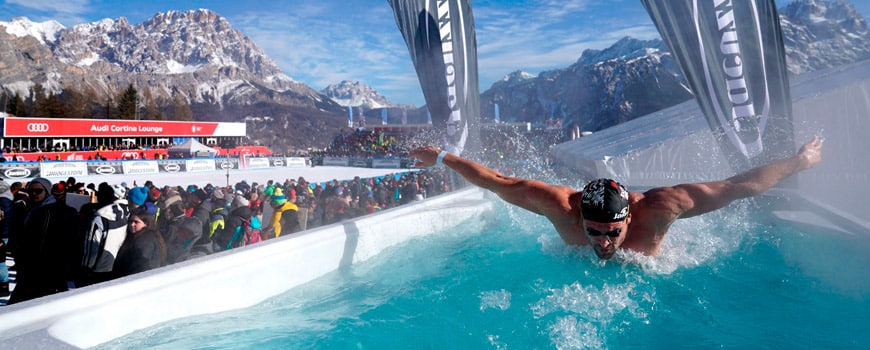 Swimming against the current at home is not only an effective way to exercise, but also a source of fun and relaxation. The versatility, comfort and flexibility offered by this feature make swim spas an attractive choice for those seeking an active and healthy lifestyle.
Discovering the advantages of a swim spa in your garden
Swim spas, with their ability to provide a personalized swimming experience and moments of relaxation in the comfort of your home, have become a popular choice for many people. In addition to its versatility, having a swim spa in your garden offers a series of notable advantages:
No municipal building permit: In most situations and municipalities, the installation of a swim spa does not require a building permit application, since it is not a fixed installation ( as would be the case with construction pools), so it can be considered a removable installation (such as a jacuzzi or a canvas pool). Therefore we can enjoy all the advantages of pools without permission and at the same time, the quality and experience of a premium product.
Water heating: Most swim spas have the ability to heat the water, allowing you to enjoy them all year round, regardless of weather conditions.
Aquatic exercise: Swim spas provide an ideal platform for low-impact exercise and swimming against the current, making them an excellent option for maintaining an active lifestyle.
Relaxation and well-being: After an exercise session or at any time, you can enjoy a relaxing hydromassage in it, since many of them have the functions of a spa. li>
Compact space: Unlike conventional pools, swim spas are more compact, making them ideal for smaller spaces such as gardens. Most swim spas have measurements that range between 4 and 6 meters long, 2.30 meters wide and a height of approximately 1.40 meters.
Customization: You can adapt the water temperature and current flow to meet your individual preferences.
Having a swim spa in your garden not only adds value to your home, but also provides a versatile space for exercise, relaxation and fun any time of year. With the ability to customize your aquatic experience, these at-home wellness oases have become a tempting option for those seeking a perfect balance of activity, relaxation, comfort and a quality experience.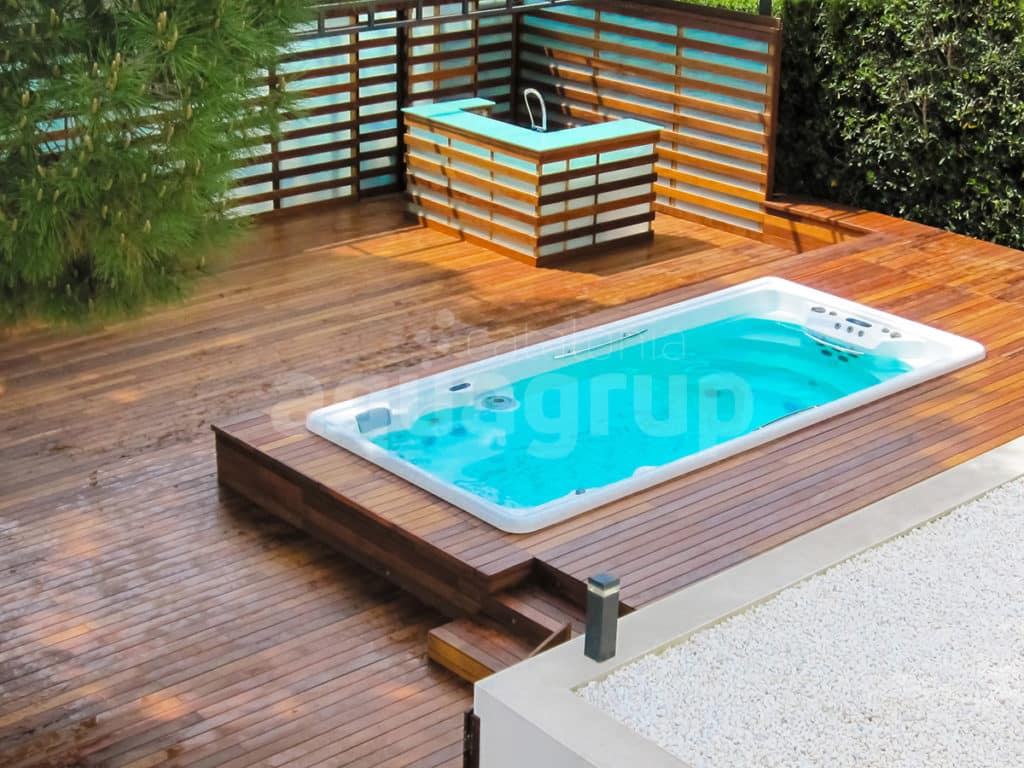 Key requirements for installing a swim spa
Before giving the green light to installing a swim spa in your home, it is essential to take into account several essential requirements that will guarantee a safe and effective installation. In particular, pre-installation is a critical step that requires the implementation of a light inlet with an exclusive differential for the swim spa, a water inlet and a drain if you opt for above-ground installation. However, if your choice is to install it embedded in the pavement, with the entrance at ground level (like traditional swimming pools), it will be necessary to create a prior pit that includes all the integrated installations.
These technical requirements are vital to ensure both the functionality and safety of your swim spa. In the next sections, we will explore in detail how these aspects can influence the installation process and how they can be adapted to different situations and specific needs. If you have ever considered having a swim spa in your home, it is essential to be aware of these requirements to ensure an optimal experience and thus be able to enjoy all the benefits of the jacuzzi.
Reference brands in the market: Aquavia Spa ® and Jacuzzi ®
In the swim spa market, two names have stood out for their quality, innovation and prestige: Aquavia Spa ® and Jacuzzi ®. Both brands are synonymous with excellence in design, technology and performance. Next, we will explore the distinctive virtues of these two leading brands in the world of spas.
Aquavia Spa ®: The Swim spa Aquavia Spa ® are known for their quality and durability . Their swim spas are designed to resist the elements and the passage of time, making them a solid investment for the future. Additionally, Aquavia Spa ® offers a wide range of customization options. The brand is also notable for its focus on energy efficiency, meaning you can enjoy your swim spa without worrying about high energy costs. But above all, Aquavia Spa ® stands out for its products manufactured in Spain, providing extra quality compared to the sector.
Jacuzzi ®: The Swim spa Jacuzzi ®, are manufactured by one of the most iconic brands in the wellness industry, which has been able to extend its legacy of luxury and quality to swim spas. Its products stand out for their elegant and ergonomic design, as well as advanced hydromassage technologies that offer an incomparable relaxation experience. Jacuzzi swim spas are equipped with cutting-edge features, such as LED lighting systems and intuitive controls. Additionally, the brand prides itself on its commitment to efficiency and sustainability, which contributes to long-term customer satisfaction.
These two brands offer high-quality options for those looking for a top-notch swim spa. Each has its own strengths, unique features and a wide assortment of models, giving consumers a wide range of options to choose from based on their specific needs and preferences.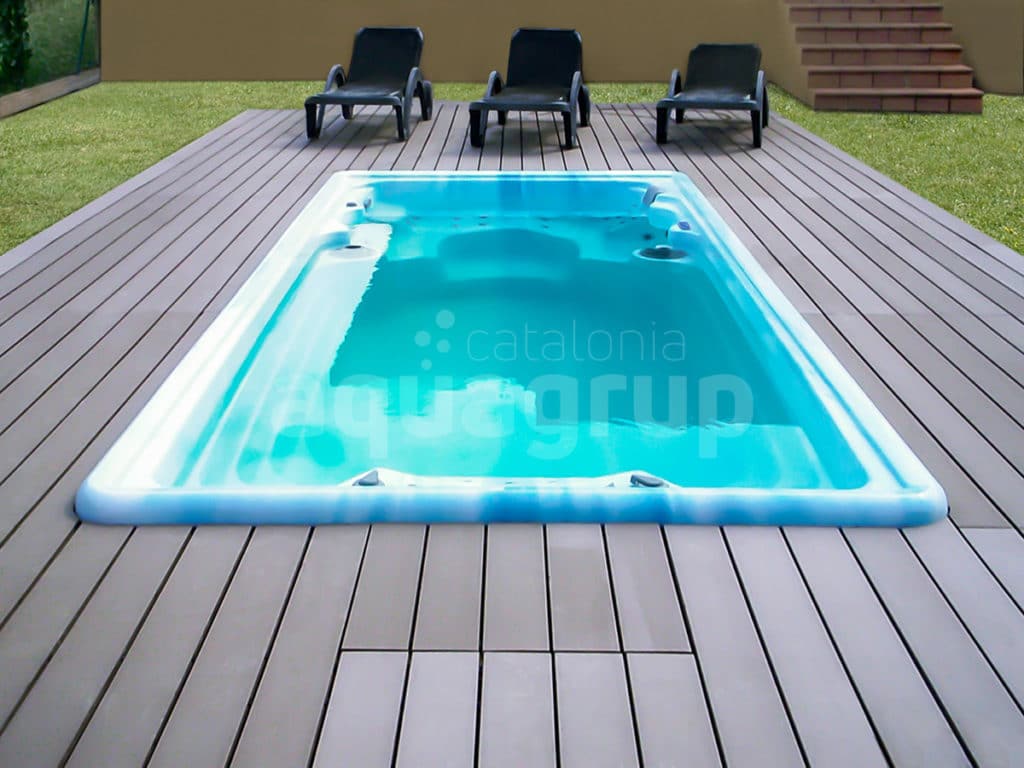 Why do you need a swim spa?
In short, the ability to swim against the current in the comfort of your home provides a series of unmatched benefits, from personalized exercise to flexibility in climate control and year-round enjoyment. If you are ready to transform your lifestyle and enjoy all of these benefits, consider incorporating a swim spa into your home. Explore the available options and find the model that best suits your needs. Don't wait any longer to enjoy an unparalleled swimming and wellness experience. Your personal oasis of relaxation and physical activity is waiting for you! For this you can trust Aquagrup, we are specialists in spa and swim spa Aquavia Spa® and Jacuzzi®.