In this article we will explain the main differences between hot tubs, swim spas, swimming pools and acrylic mini pools. This post will give you some of the best wellness solutions for your home, whether you're looking for an indoor solution or an outdoor solution for your garden, terrace or patio.
What is a hot tub?
When we hear the word hot tub it immediately brings to mind a place where we can relax and recuperate in water, by enjoying the various benefits it provides. It is believed that the word originated in the city of Liège, in Belgium, the location of a thermal spa that has been renowned for its healing properties since Roman times. These days we go to a spa to switch off, relax and recuperate through the various treatments on offer. At a spa you will find various different therapies, all of which involve water in some way. Some of the therapeutic and recreational activities on offer include swimming pools, jacuzzis and hydro massage. These spas usually operate as a hotel, where you can spend one or several days and enjoy all the different treatments on offer, which are always complemented by other additional therapeutic treatments, such as aromatherapy or massages.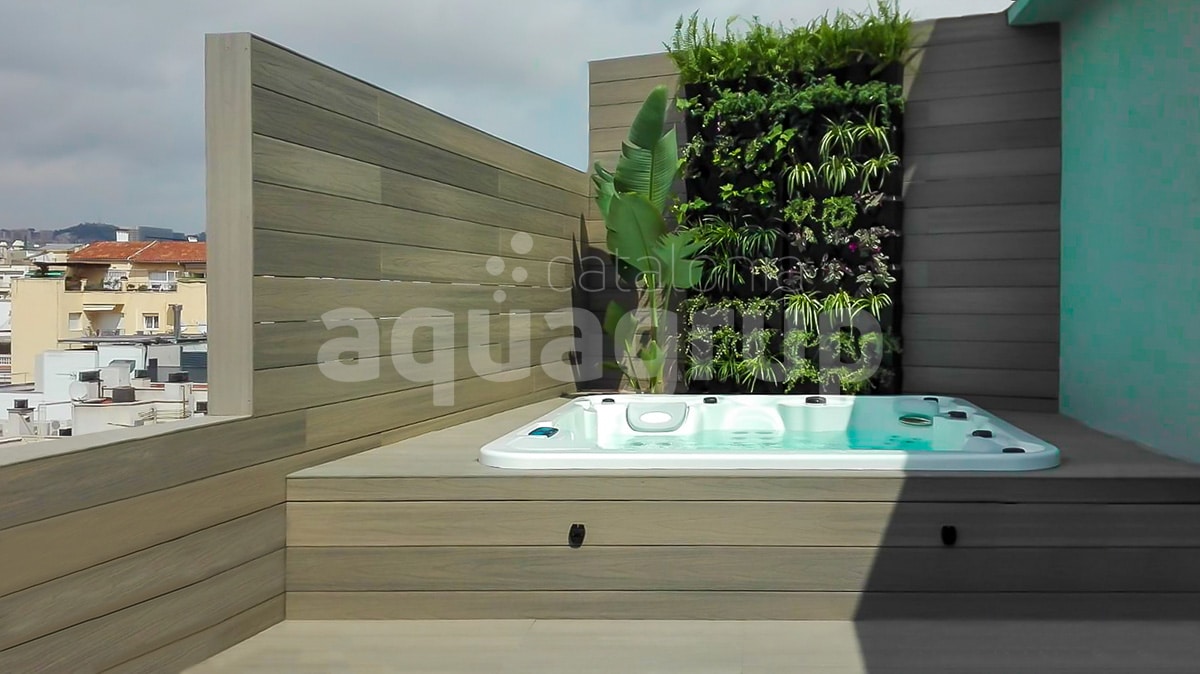 You can also enjoy all of these benefits in your everyday life, if you choose to install a small hot tub in your home. This will offer all the benefits of hydro massage, with the convenience of not having to leave your home. Its therapeutic properties can help with various ailments, improving your daily routine and quality of life. You will notice the benefits of a hot tub immediately.
Features of a wellness spa centre
A spa can be very helpful when you feel the need to rest, relax, recharge your batteries and pamper yourself. They are perfect places for trying all the techniques that will help you find the perfect balance between mind and body. This balance is what gives us that sensation of peace, which you can obtain thanks to a relaxing soak in a hot bubbly water.
All wellness centres generally include certain areas that are essential to achieving what we're looking for. A soak in a spa may be accompanied by a gym session, where you can perform all kinds of physical activity to give your body a workout, an essential step to achieving the sense of wellbeing we're looking for. It may also be accompanied by massage sessions, to relax your muscles.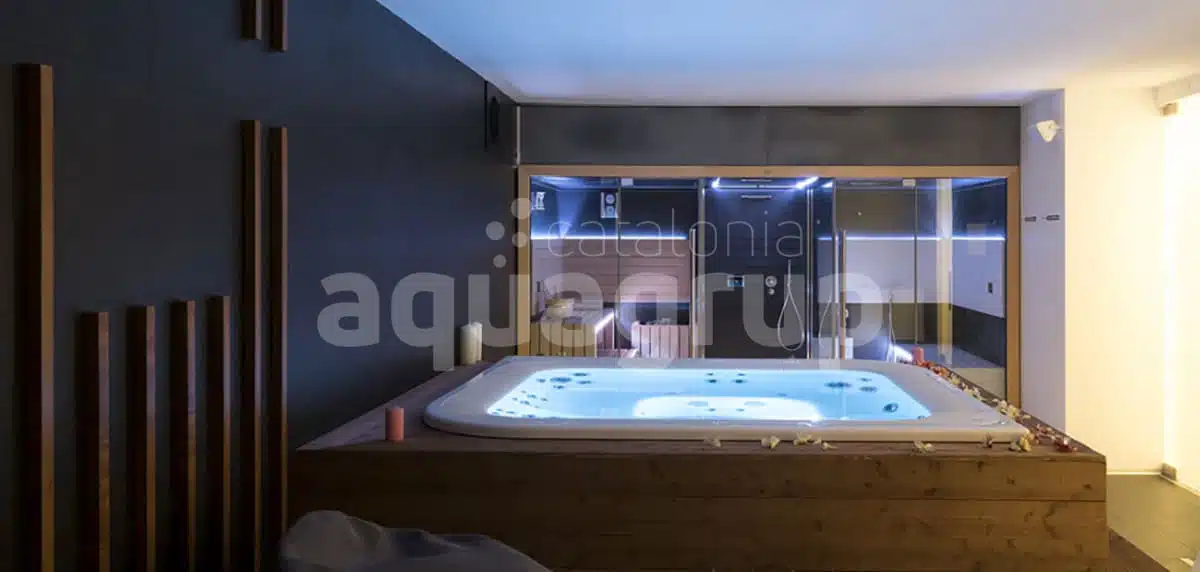 A hot tub should be located either outside or in an indoor space, along with swimming pools, jacuzzis or saunas. They should also offer various types of jets, hydro massage therapies and generally every kind of water, therapeutic and relaxation treatment.
Wet areas, like pools and jacuzzis, are essential as they form the basis of the wellness philosophy.
The wet area of a wellness hot tub is its nerve centre, so to speak, the most important space in the centre. Since they are designed for therapeutic purposes, they need to be perfectly designed and prepared to create a welcoming and relaxing environment. It is also highly important to use the very best cleaning systems for these spaces, to ensure that hygiene levels are impeccable.
In addition to the wet areas, another typical part of these centres is the dry areas, where you will find the gym and all the spaces for doing all kinds of relaxation activities that don't involve the use of water. In this area you can use all kinds of different exercise machines, such as cross trainers, treadmills, exercise bikes or stepper machines.
In addition to the typical gym activities on offer in the dry area, you can also enjoy a number of other therapeutic activities, such as yoga, pilates or even acupuncture. A spa is essentially a centre dedicated to the body, but it is not focused on appearance, rather relaxation, stress relief and caring for your mental and physical health.
These conditions normally apply to spas or wellness centres for public use, but can also be adapted to a space in a home, to create a spa area for private use.
What is a swim spa?
A swim spa is a hot tub that offers the user more options, as its counter-current jets enable you to exercise at home. But it offers more than just the counter-current system, as another main advantage is its integrated water heating and filtration systems. This feature makes this kind of hot tub significantly easier to maintain. With a swim spa, you will have all the benefits of a regular swimming pool and a hot tub, all within the same piece of equipment.
Features of a swim spa
The main feature of a swim spa is that it's a swimming pool with a counter-current system, which is ideal for swimming endless lengths at home. But this is not the only advantage, it also has a water heating system, so you can enjoy a relaxing dip at any time of year, at the perfect temperature. Swim spas also have an in-built filtration system that can be programmed, making it incredibly easy to maintain. Having a swim spa in your home will increase your quality of life, as there will be nothing stopping you having a relaxing soak after a long day at work, or getting some exercise by swimming a few lengths.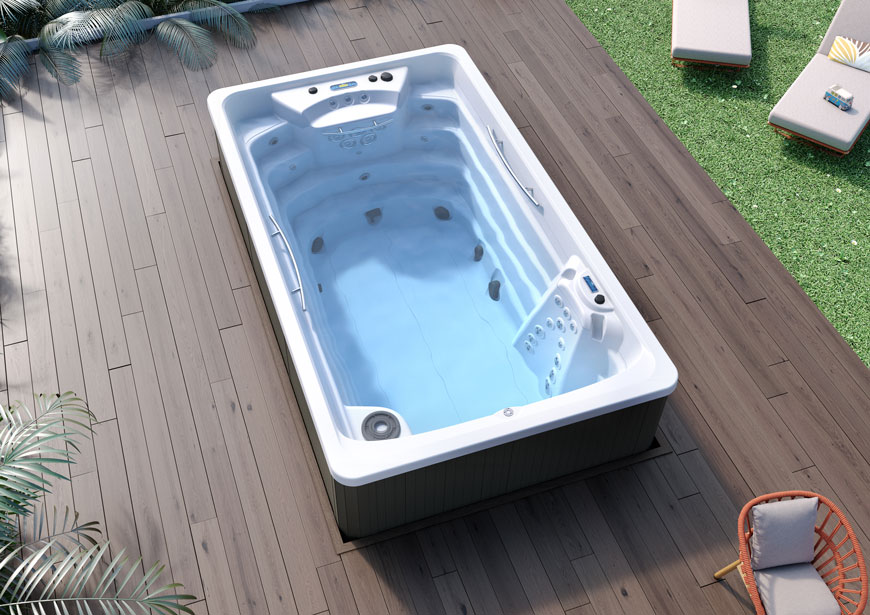 Another advantage of a swim spa is that it can be installed both inside your home and outside, on a patio or in a garden, depending on the layout of the space. And it is incredibly simple to maintain, so you can do it yourselves, without needing to hire professionals. You will have everything you need from a swimming pool, so you can swim lengths against the counter-current system, then enjoy a wonderful hydro massage bath, to end your workout session by relaxing your toned muscles.
What is a swimming pool?
A swimming pool is essentially a tank of water that is used for swimming, for either exercise or fun. Swimming pools allow us to escape the suffocating heat of summer, taking a pleasant dip or doing a swimming workout at home without the need to go to a sports centre. You can also enjoy fantastic dinners, lunches or parties with friends and family, with the added value of being able to dive into the refreshing water any time you like.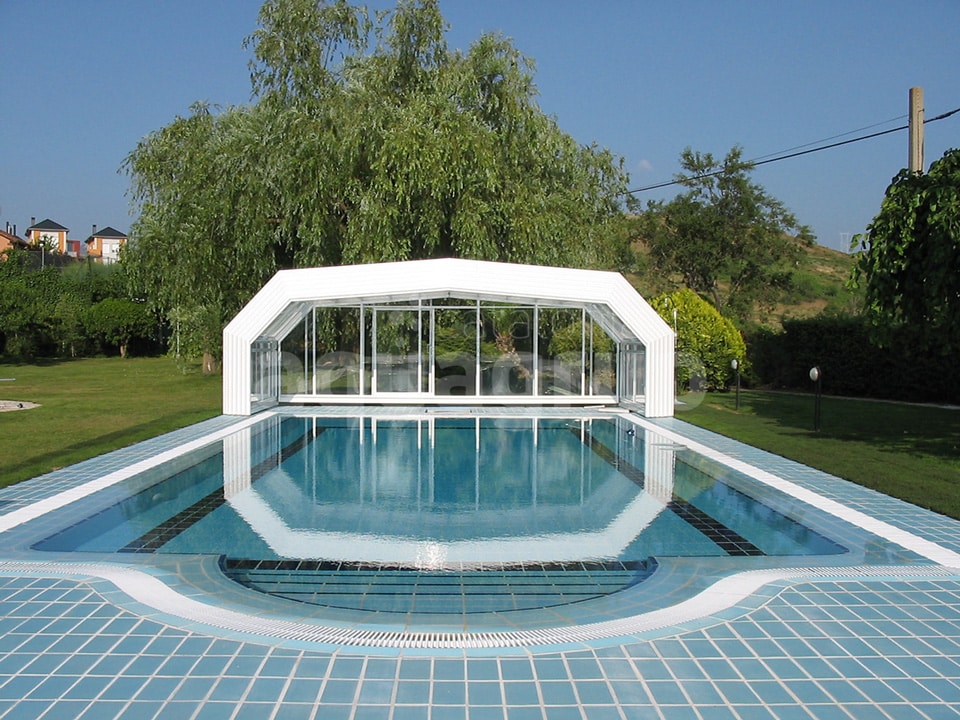 There are two different types of swimming pools. In a private home, as long as you have a garden or patio with enough space, you'll be able to install or build a swimming pool. You can choose to install an above-ground pool that can be dismantled in winter, or install an inbuilt pool by digging a hole in the ground, choosing the dimensions that best suit your needs. Whereas at a sports club, you can find much larger swimming pools, as they are designed to be used by many people at the same time. Furthermore, the pools at these centres will always be heated, set at the perfect temperature and under cover.
Features of a swimming pool
As you have seen, the features of a swimming pool can vary depending on the type. Some of the different options available include the following:
Above-ground pools, sometimes called prefabricated pools. They can be installed without any construction work.
Concrete pools. The majority of pools in private homes are of this type. You will need to have construction work done for this kind of pool, by digging a hole in the ground. They require a certain amount of maintenance as you will need to treat them with chlorine, vacuum the floor of the pool and service the purifier on a regular and continual basis, to ensure you can enjoy your pool in the best conditions.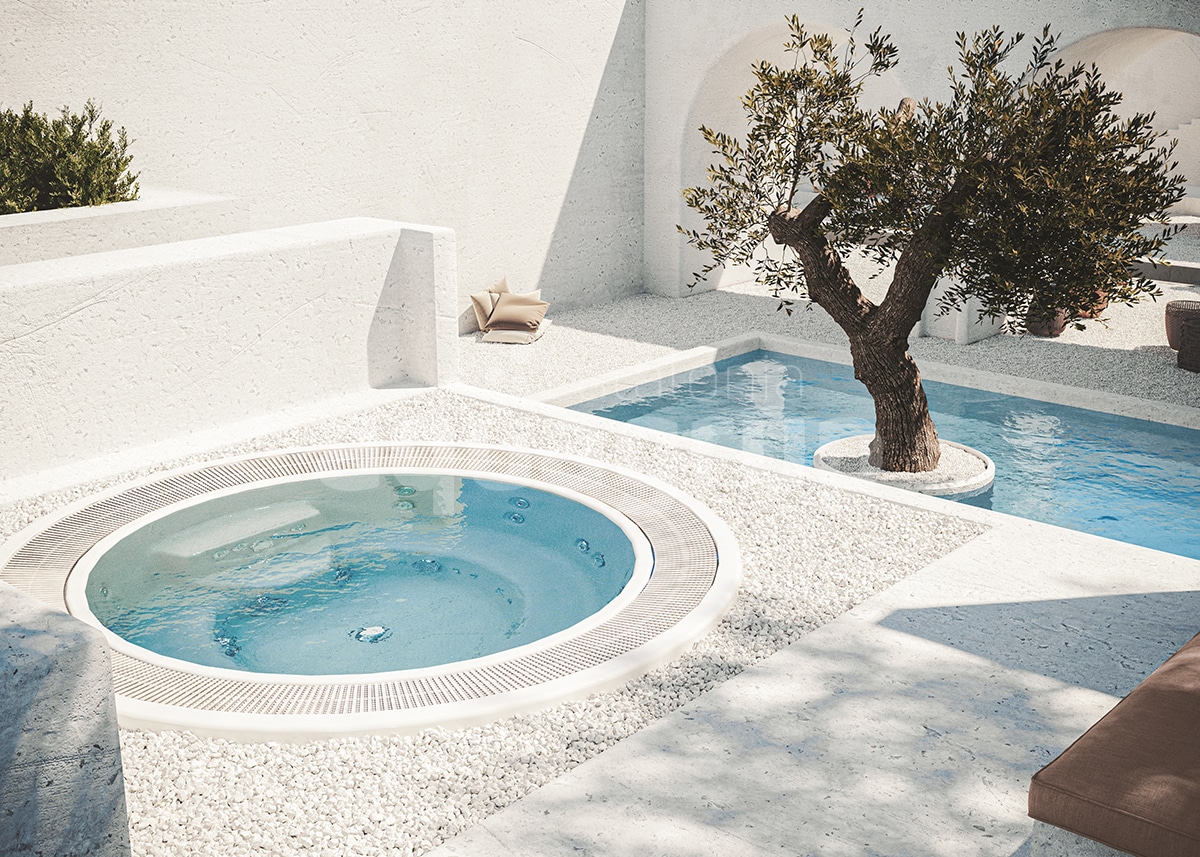 Reinforced and built-in polyester fibreglass pool. The main feature of this type of pool is that it is produced in one single piece, in the form of a shell. You will still need to dig into the ground to install it, but the dimensions will be predetermined in accordance with the size of the pool. You can customise it to your taste by adapting the design, colours and shape. Another advantage of this pool is that you can even move it at any point, should you need to.
This type of pool is available in various different qualities, with each offering different levels of maintenance. Furthermore, the chemical products necessary for treating them may cause damage to the materials used in the pool, so it is essential that you protect them while they're not being used.
Mixed pools. These systems offer several advantages, as they can be installed quickly and customised to the customer's tastes. You can choose the size, shape, colour and even the pattern design for the pool floor. It is an inbuilt pool, but it combines the best features of each type of pool, achieving a finish that is personalised, unique and very attractive.
What is a mini pool?
Mini pools are usually made of polyester, expanded polystyrene covered with microcement or gresite, or occasionally you might find mini pools made from stainless steel. Mini pools are designed for homes with limited outdoor or indoor space. There are various different options available on the market, in a variety of colours and materials, and they all offer different accessories and degrees of customisation.
The dimensions of mini pools can be adapted to the characteristics of the space where they are being installed, which makes them very practical. Their properties make them highly versatile and they can be installed on terraces, outdoor patios, small gardens, or even the attic of a building. Something you should bear in mind when installing a mini pool on the terrace of a building is that you will need to do a structural calculation with an architect, which will ensure that the floor is strong enough to support the weight of the pool full of water, thus providing a full safety guarantee.
Features of a mini pool
The features of a mini pool will depend on the materials it is made from and where it is installed. You may find:
Small pools or pools made from steel. Pools made of modular panels, which are ideal for installing in spaces with limited access.
Small pools or one-piece mini pools. One-piece mini pools are made from polyester, and they are the most popular type. The shell is produced from a mould, meaning it involves just one single piece. The advantage of this is that it can be made according to the customer's requirements, so it's fully customisable. They can be installed in small gardens, attics or terraces.
At Aquagroup we have come to the conclusion that, if you're looking for a versatile and functional mini pool that you can use throughout the year, the best option is to adapt the structure of a swim spa, leaving out the water jets and jacuzzi elements, but keeping the water heating system, heat insulation and water purification system. This enabled us to combine the best of both worlds.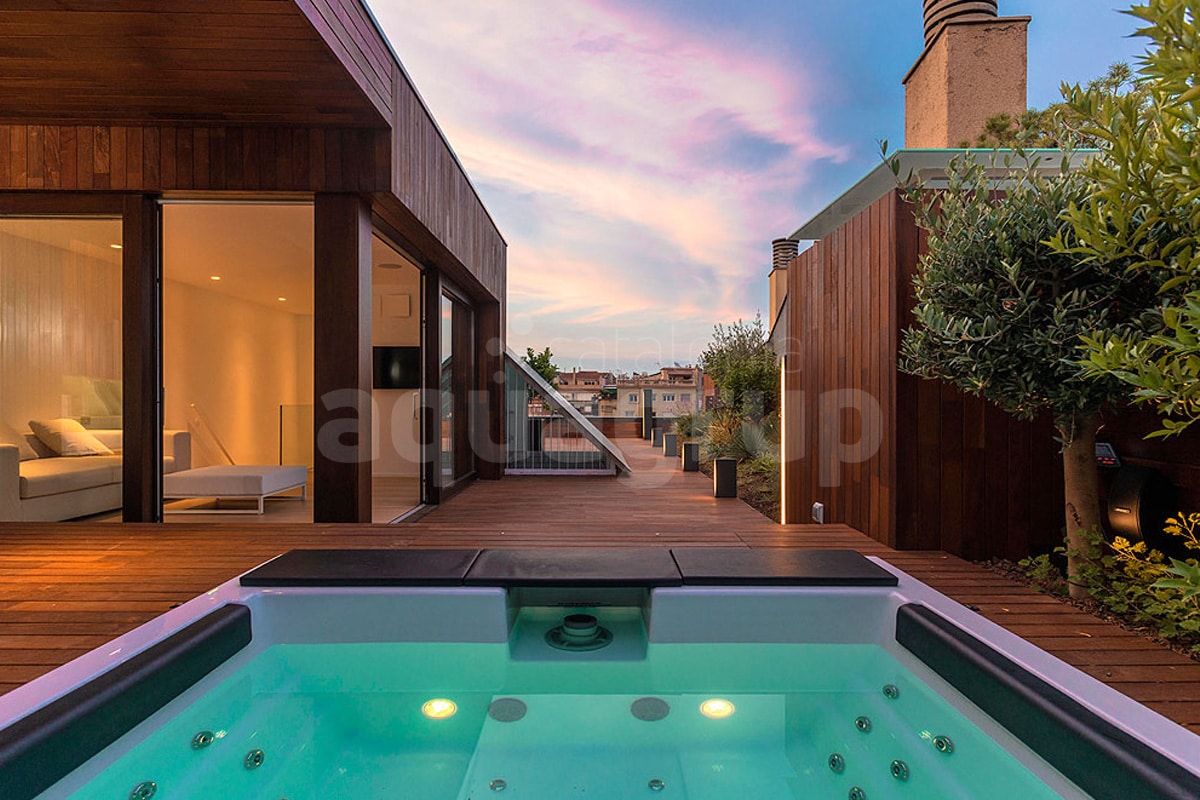 Concrete mini pools. These mini pools are made to measure from concrete and need to be designed and constructed by a team of specialists.
Differences between a hot tub and a swim spa
Although they are both designed for relaxing and enjoying the benefits of hydro massage, there are a number of substantial differences between them that you should take into account when choosing one or the other. These differences are:
Energy consumption. Swim spas consume more electricity due to the powerful electrical system required for the counter-current jets.
Dimensions. Swim spas are small swimming pools where you can swim against the counter current. You won't have this option in a traditional hot tub, so you won't need as much space to install it.
Decide what you want to use it for. If you're just looking to enjoy a moment of relaxation at the end of the day, after work or whenever you feel like it, you can choose a outdoor hot tub or portable hot tub, to enjoy the benefits of hydro massage at home, with all the associated benefits.
On the other hand, if you're looking for the added value of being able to swim at home, while also enjoying a relaxing soak at the perfect temperature, then we'd recommend you opt for a swim spa, which offers both possibilities of an outdoor Jacuzzi plus the advantages of swimming against the current.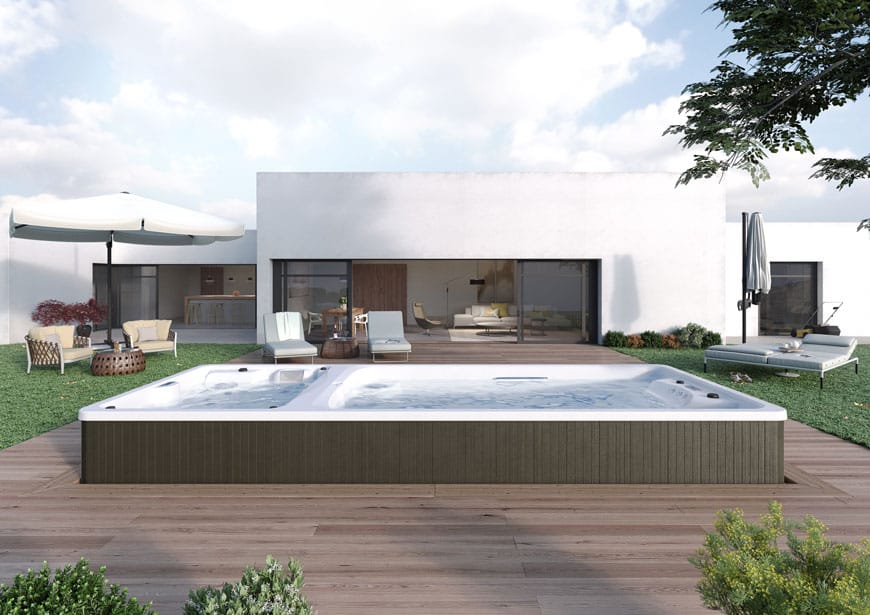 Differences between a hot tub and a swimming pool
There are many differences between a hot tub and a swimming pool, so you should make sure you have a good sense of your priorities and tastes. It could be said that they are not really designed for the same purposes. A swimming pool is generally found in the garden or in the grounds of a house, and is designed for having fun, cooling off and spending time with the family over the best months of the year, and also maybe for doing a bit of exercise.
However, since swimming pools are not heated, they can't really be used once the weather starts to get colder. Another factor to consider is maintenance, although the procedures for maintaining swimming pools and hot tubs are quite similar. It is much easier to keep the water clean in a hot tub, as there is a much lower volume of water and it has a cover, which protects it from organic materials falling into the water while it is not being used.
Maintaining the water properly in a swimming pool is therefore essential, even in the months when you're not going to use it. If you don't properly maintain the water quality, it may not be usable for the next swimming season, and you'll have to refill it for the following year, with all the additional costs this involves.
Swimming pool water should be treated all year long with chemical products, such as chlorine, which will be the responsibility of the owner or whoever they hire for this purpose. The water, filters and pool floor should be maintained on a constant basis.
Remember that, whether you opt for a hot tub or a pool, both are available in portable and fixed options, with or without the need for digging or construction work. Whether you choose one option or another will mostly depend on the available space.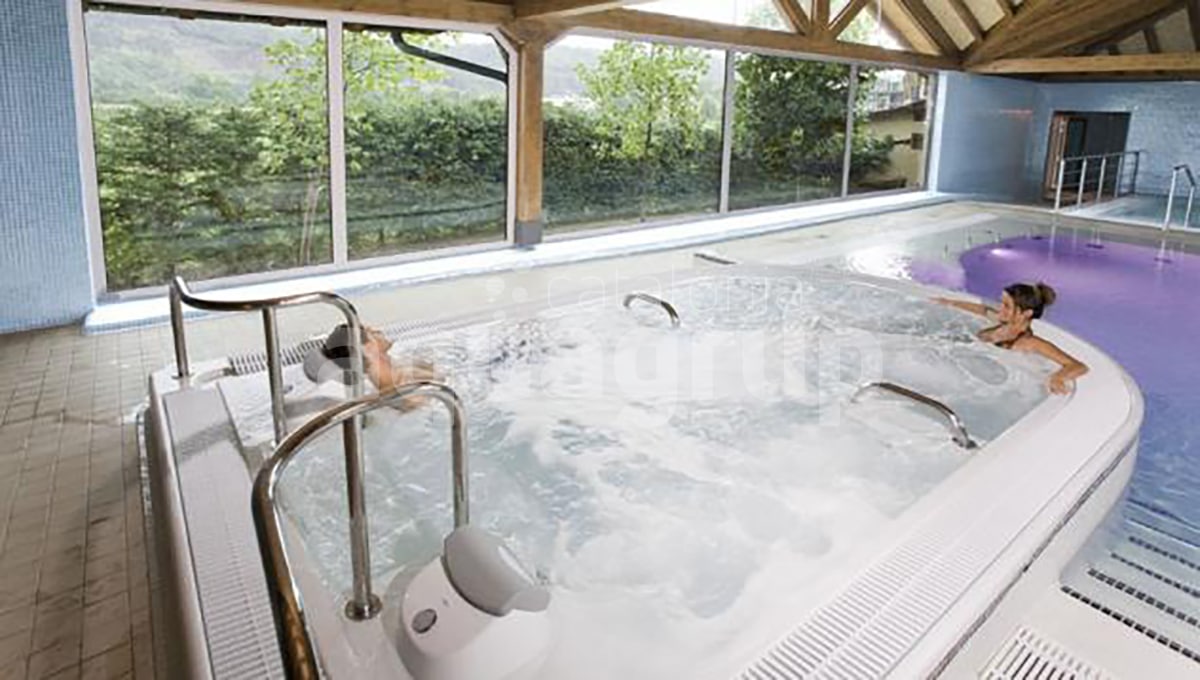 Water temperature may also be a key factor in your decision. As we've seen, swimming pools can only usually be enjoyed in the warmest months of the year. hot tubs, however, can be enjoyed at any time of the year, as the water is maintained at a high temperature, so it can be used for therapeutic and healing purposes. This may be an issue if you want to avoid spending too much, as keeping the hot tub water at a high temperature will increase your electricity bill. This is another fundamental difference between the two options.
In summary, as we mentioned at the beginning, if what you're looking for is a recreational space for cooling off over the summer, you want a swimming pool. However, if you're looking for somewhere with a touch of glamour where you can relax, de-stress and enjoy the therapeutic benefits of hot water for your body all year long, you should go for a hot tub.
Differences between a hot tub and a mini pool
The main differences between a hot tub and a mini pool are structural. Mini pools are designed with different insulations systems, so you'll have to decide what you're looking for: a water heating system, heat insulation systems that improve energy efficiency and performance, or a thermal cover that protects the water from dirt and temperature loss when it isn't being used. Mini pools offer very similar features to standard swimming pools, but they are smaller, weigh less and offer less personalisation options.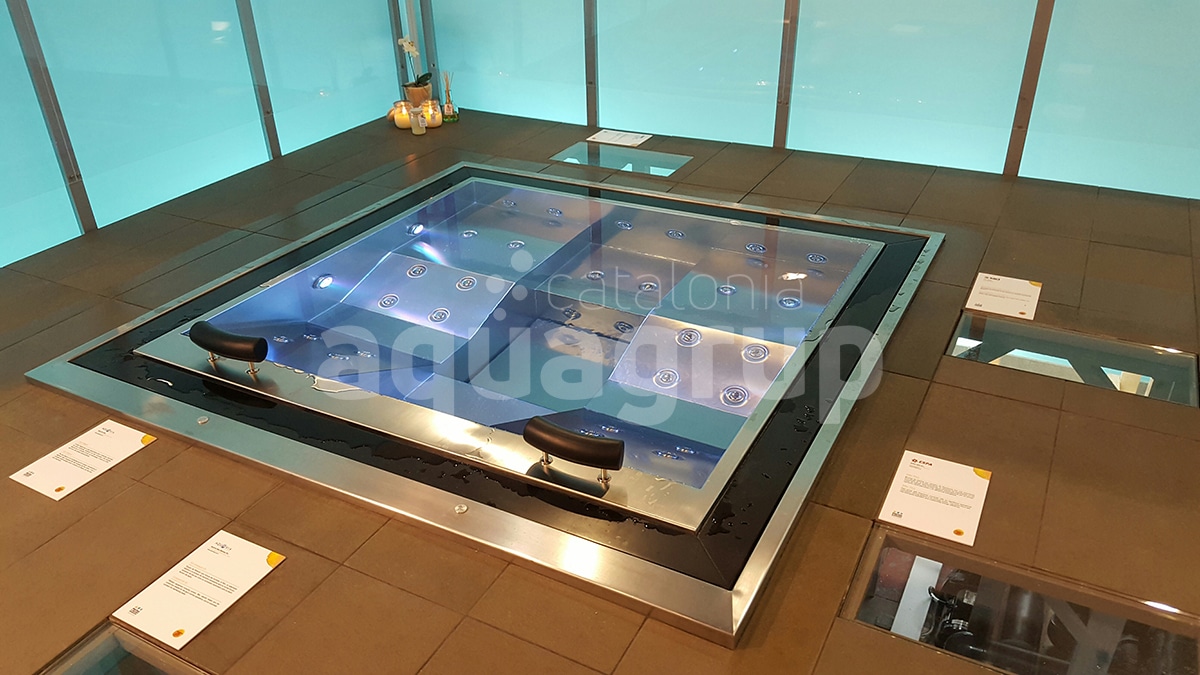 Mini pools are filled with a flexible hose and an internal filling system, and they have their own emptying system. They also require an electric system to ensure that their components work properly. Just like regular swimming pools, the water in mini pools is maintained via a filtration system.
The heating system in a mini pool allows you to heat the water whenever you like, as it is operated by the electric system. This is not the case with conventional swimming pools, where the water temperature is dependant on its insulation properties. For cleaning a mini pool you will need to use specific detergents.
You will also need to bear in mind that spas are much smaller in size, which, depending on the space you have available to you, may influence which option you choose, according to your needs.
Differences between a swim spa and a mini pool
Mini pools are particularly ideal for people who have limited available space. If you just have a patio or a small terrace, they offer you the opportunity to enjoy all the benefits of a conventional swimming pool. They are both used for the same recreational purposes and also provide additional benefits, such as easier maintenance, and they are much cheaper to build and maintain than a regular swimming pool. A swim spa is used for different purposes than a mini pool. A swim spa offers the therapeutic advantages of a regular spa while also allowing users to exercise.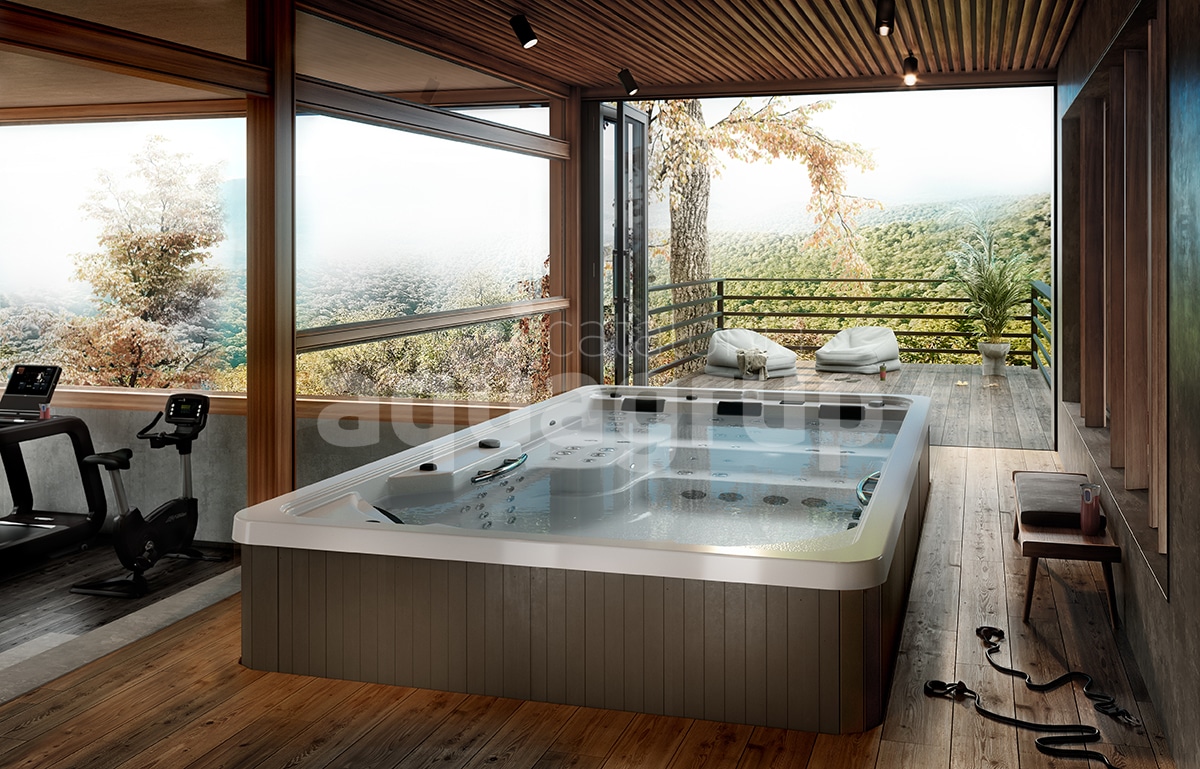 The differences are therefore numerous. Swim spas require higher energy consumption due to the counter-current jets. But on the other hand, they are very hygienic due to their water purification and disinfection systems. As such, your choice between the two will depend on how you plan on using it, as well as how much money you have to invest.
Differences between a mini pool and a conventional swimming pool
The two main differences between these two types of pool are the size and maintenance. Inbuilt pools will require expensive maintenance and need to be rigorously maintained. However, they do offer savings in space as, depending on the characteristics of your home, they can be built according to your required dimensions, no matter how large. The work can be done in a truly beautiful way, turning your garden into a space that you've dreamed about.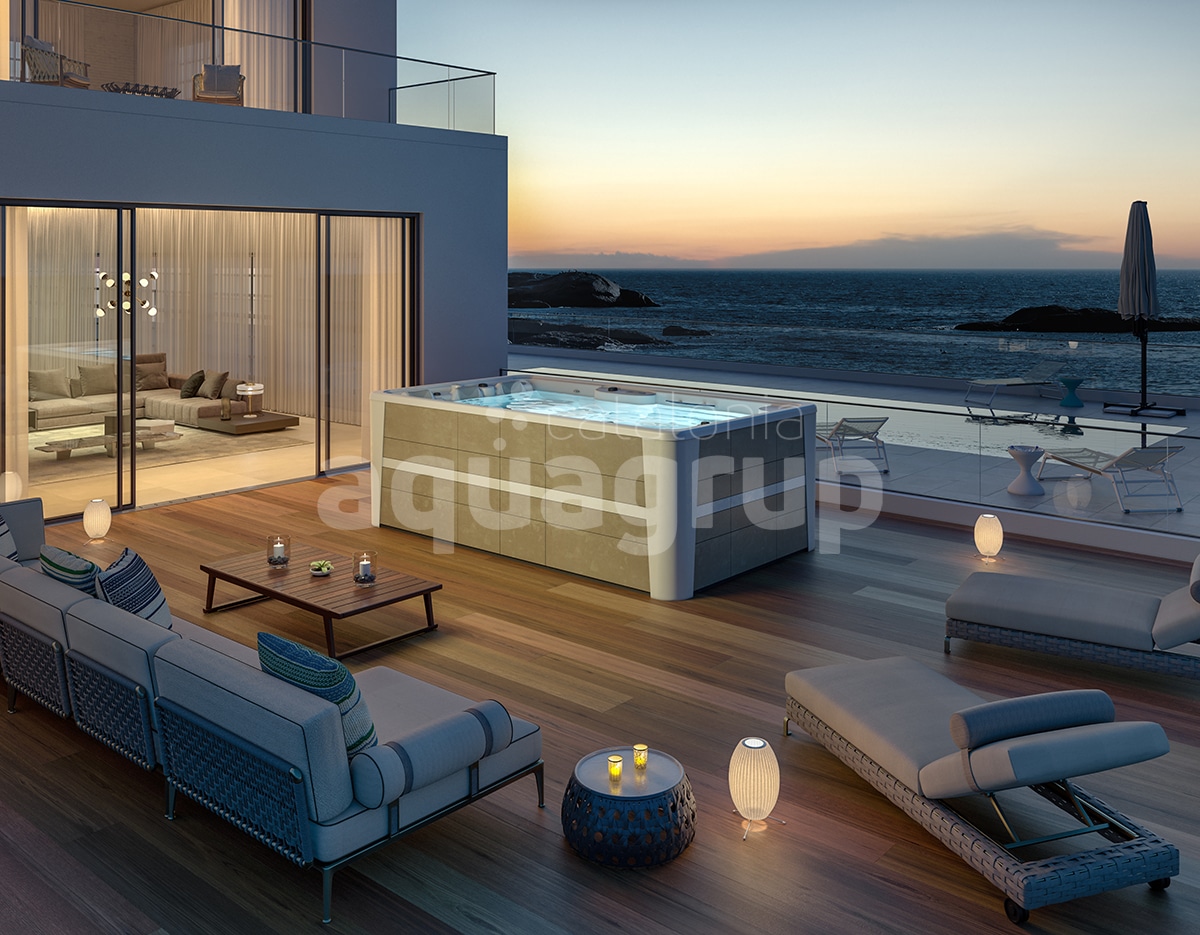 On the other hand, mini pools offer a number of other advantages that you might find beneficial. As we already mentioned, you can maintain a mini pool with practically no help and they are much cheaper, providing all the benefits of a conventional pool for a smaller space. They are very popular due to their adaptability and you can install them in a wide range of different spaces.
Where and how can I install a spa?
If you've decided to install a spa, you should know that you can easily put it either inside or outside your home. You will therefore need a solid and level surface to place it. Whether you're going to install it inside or outside your house, you'll need a water supply, power socket and a drain.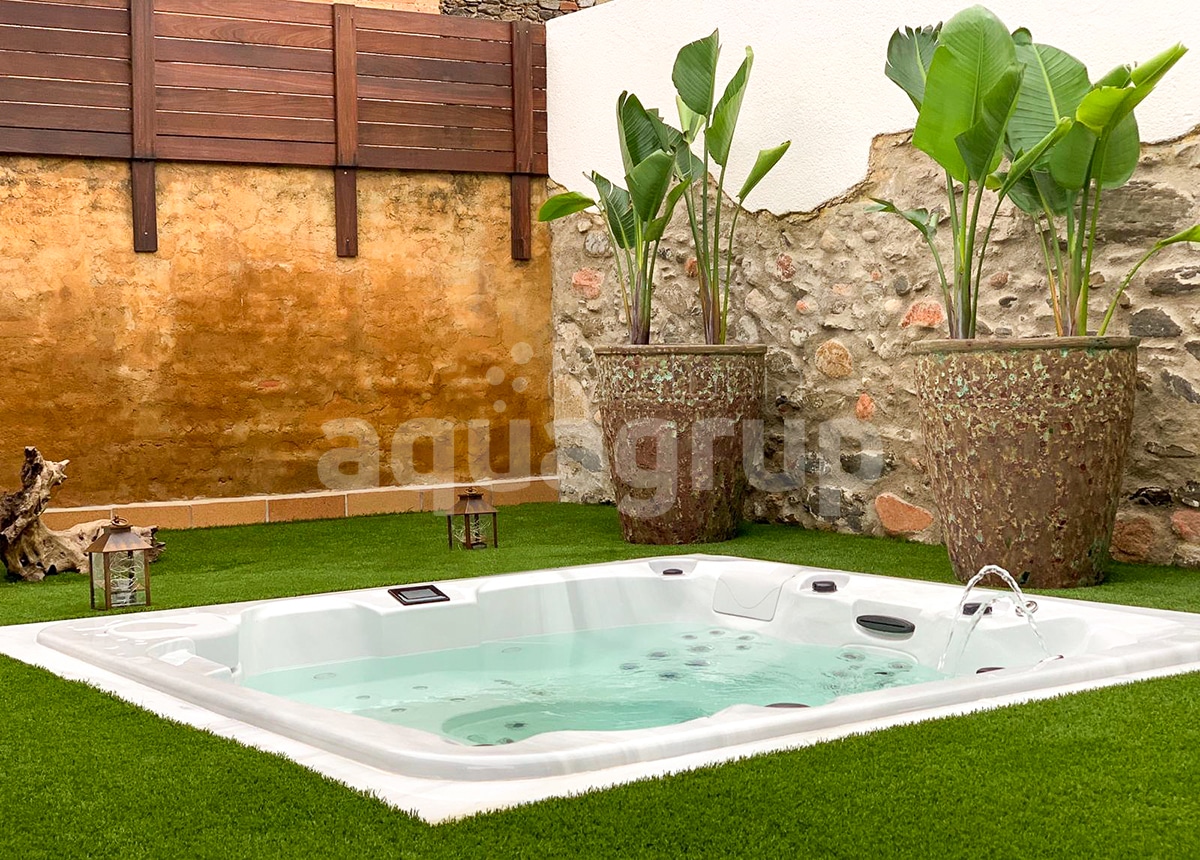 It's possible to install it inside your home provided that you have a well-ventilated space with a drain in the floor, in case water accidentally spills over the side. You should always take into consideration the space you have available, as the aim is not to destroy the harmony of a room, quite the opposite in fact; you want to improve it to create a relaxing and harmonious space. You should also consider the features that a spa can offer you from a therapeutic perspective. The number of jets and their power and location are all important factors, as this is what will offer you the massage that you need.
Where and how can I install a swim spa?
As with any construction or installation, the first thing you should do is assess the area where you want to install your swim spa. To enjoy all the advantages of a swim spa, you should make sure you have a specific location, with enough space and the suitable conditions.
Any defects in the land where you want to position the equipment should be remedied. You should also make sure that the space is suitably level.
They can be installed without the need to dig a hole, as all you need to do is build or purchase a frame. You should also have a clear idea of what features you want your swim spa to have. If the jets are too strong or too light you will need to adjust them.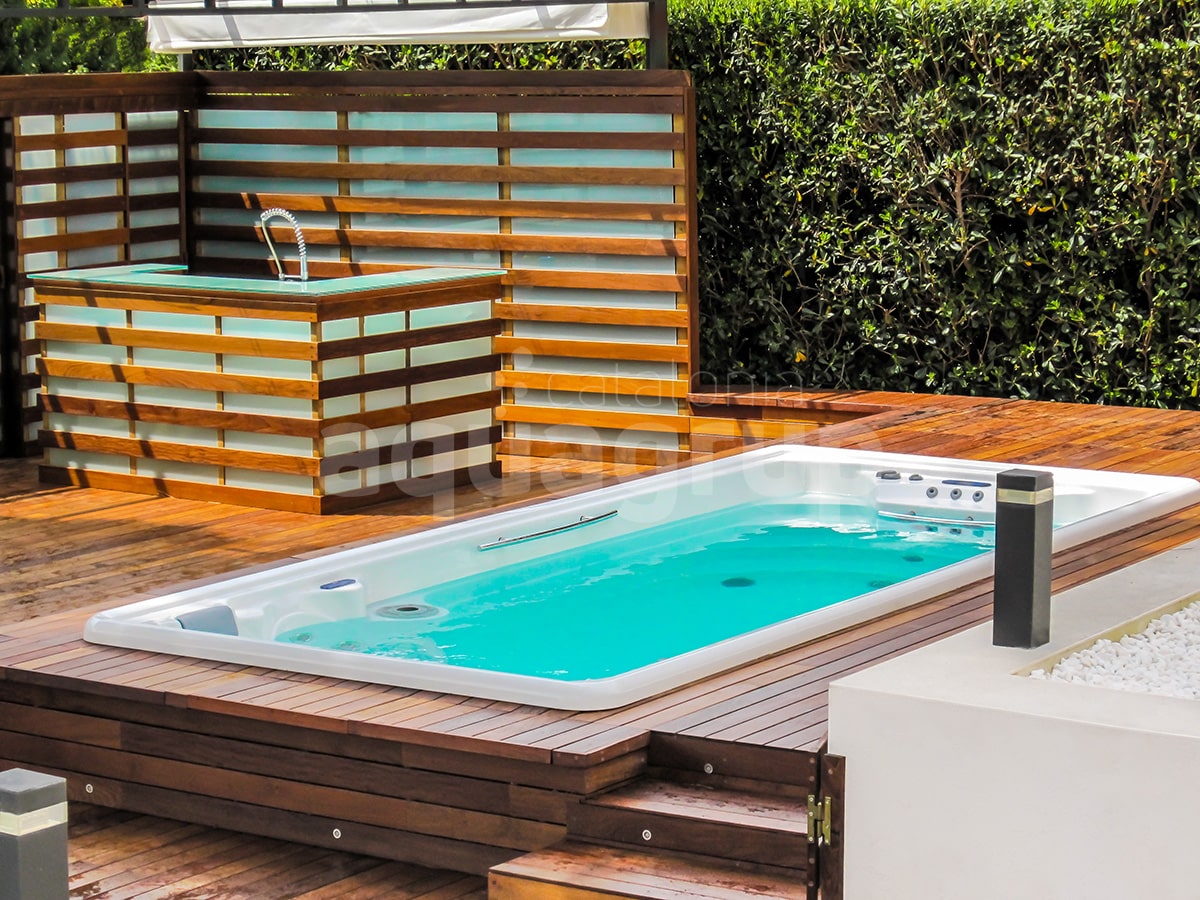 The jets should offer different settings, so you can choose between more relaxing or invigorating options. It is very important to take into account the material they are made from. This can give you an idea of how long they will last and how easy they will be to maintain. Finally, you should bear in mind that to install a swim spa you will need a significant amount of space, where the swim spa can fit and where you can enjoy relaxing activities, such as sunbathing by a beach or a relaxation area.
Where and how can I install a swimming pool?
Swimming pools will always be large in size, whether they be inbuilt or portable, so they are generally installed in gardens or in patios with a very large surface area. If you decide you'd like an inbuilt pool, you should obtain the necessary permits and hire a trusted company to install it.
When choosing the location for your pool, bear in mind that it should be a space with easy access, with as many hours of sun as possible and designed so that the pool can be integrated without any issues. If you opt for a portable pool, you will still need to assess the characteristics of the land where you plan on putting it. Make sure it is properly level and close to a power socket, as this is essential for it to be installed correctly.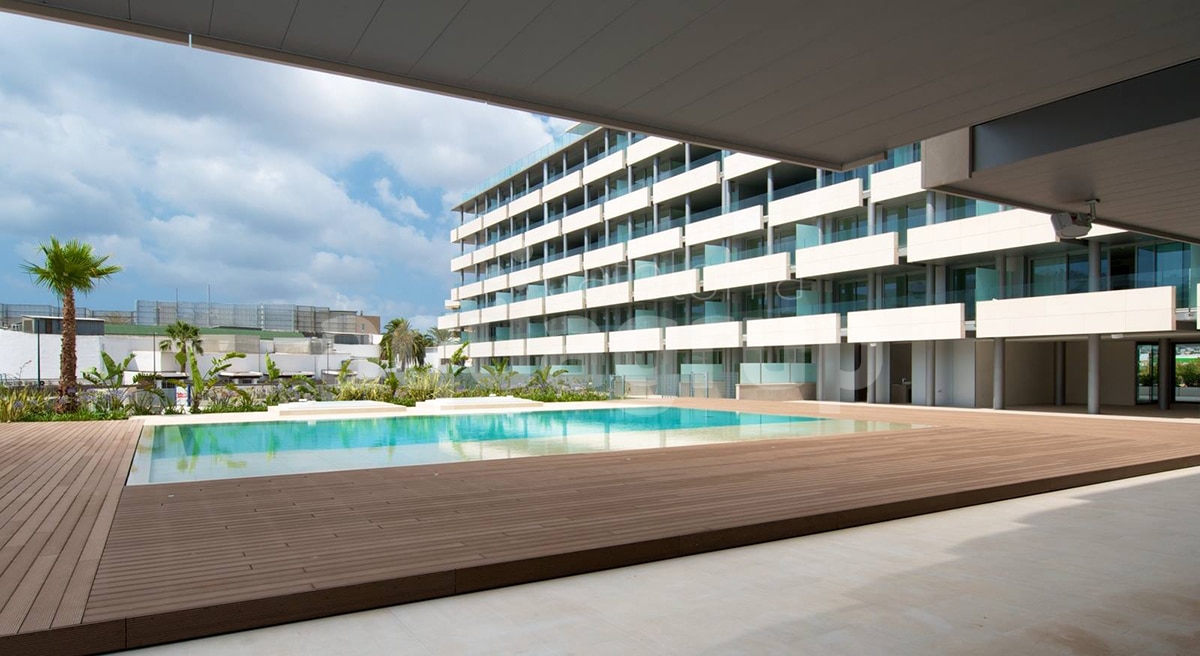 Where and how can I install a mini pool?
A mini pool is much more versatile when it comes to choosing its location. These pools are ideal for installing in an attic or even on the terrace of an apartment. If this is where you'd like to install it, make sure that the terrace has enough space to accommodate the mini pool. The model that you end up choosing will depend on the size of your terrace, the construction materials and the amount of water that the terrace can support.
Other essential factors to consider for these kinds of installations are the building perimeter, all the safety measures to prevent falls and an accurate structural calculation, which will guarantee the safety and stability of the building.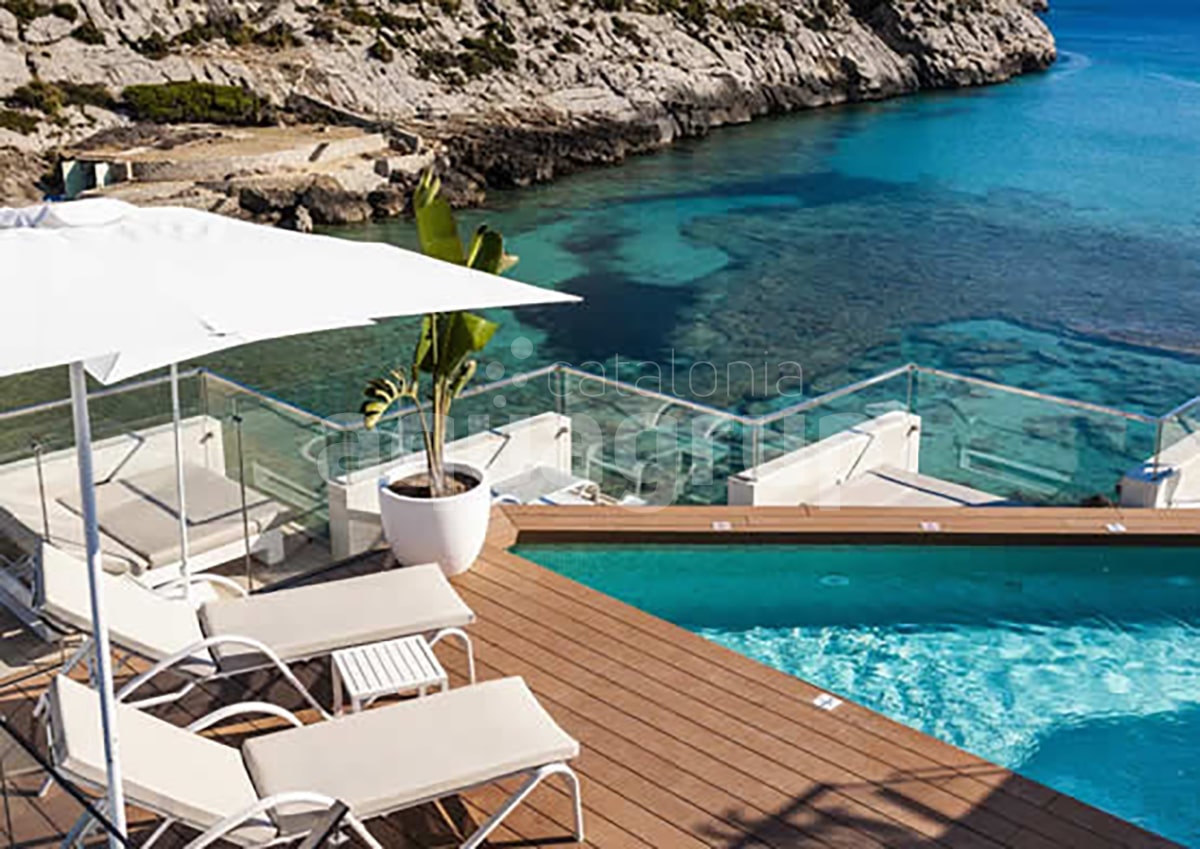 Advantages and disadvantages of a hot tub
Having a hot tub at home is a luxury that is well worth the investment. They offer many different advantages and are very beneficial for your health. They are relaxing and helpful for reducing and eliminating stress. The hot water and jets give you therapeutic massages that will improve both your physical and mental health. They help with your sleep, productivity and mood, and can even improve your relationship with your partner.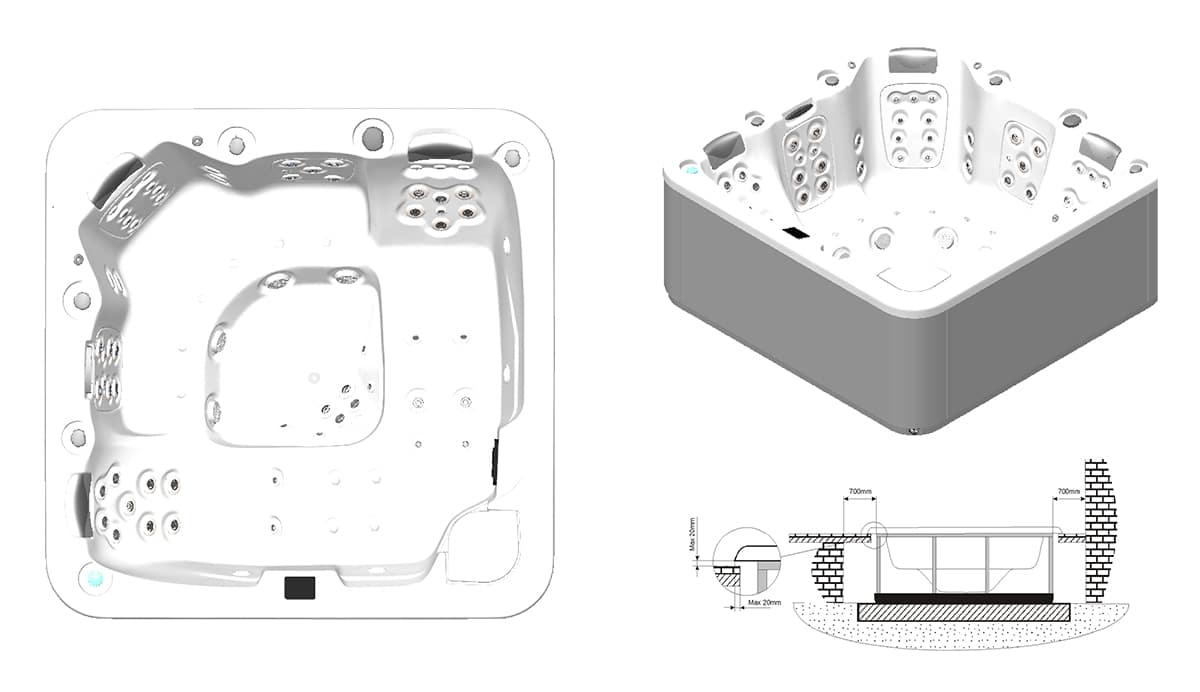 However, if you don't have enough room or you install them in a poorly ventilated space, you may not obtain the desired results. You should also make sure that you maintain your hot tub properly and regulate the temperature continuously, to make sure it stays in perfect condition. For this, we recommend that you get advice from a specialised professional, who will provide you with all the solutions you need to guarantee that your project becomes a reality.
Advantages and disadvantages of a swim spa
The advantage of swim hot tubs is that, not only can you enjoy a relaxing and beneficial hydro massage, but you can also use them for exercise, as the jets allow you to swim against the current. They are totally customisable, so you can choose the colour, size, design and features. Installing a swim spa in your home can be a truly incredible experience due to the improvements it offers to your quality of life.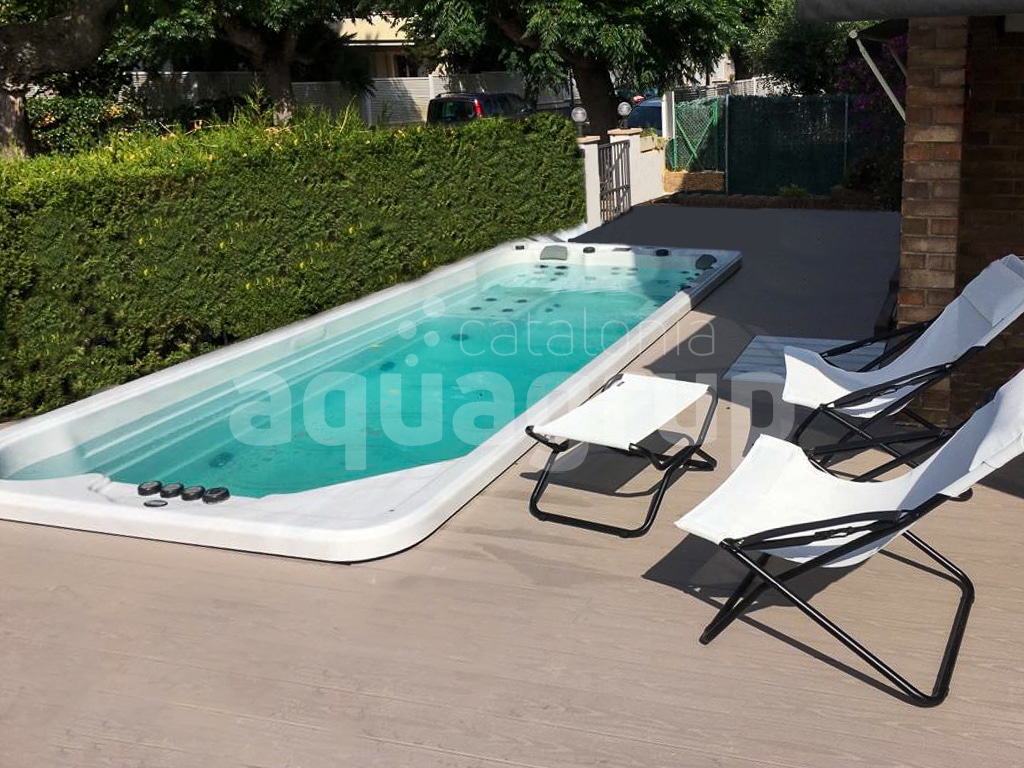 Although one disadvantage is that you will need a more powerful electric system, as its counter-current jet system will almost certainly increase your energy consumption. You will also need an area with enough room and you should choose an aesthetic design that doesn't damage the harmony of the entire space.
Advantages and disadvantages of a swimming pool
A swimming pool has a clear objective, for all the family to enjoy swimming, diving, cooling off, etc. Installing a swimming pool in your garden will allow you to enjoy incredible summers, practically without leaving your home. You'll be able to take a refreshing dip whenever you like, swim for exercise whenever you're in the mood, enjoy an afternoon of games with your kids… the possibilities are endless.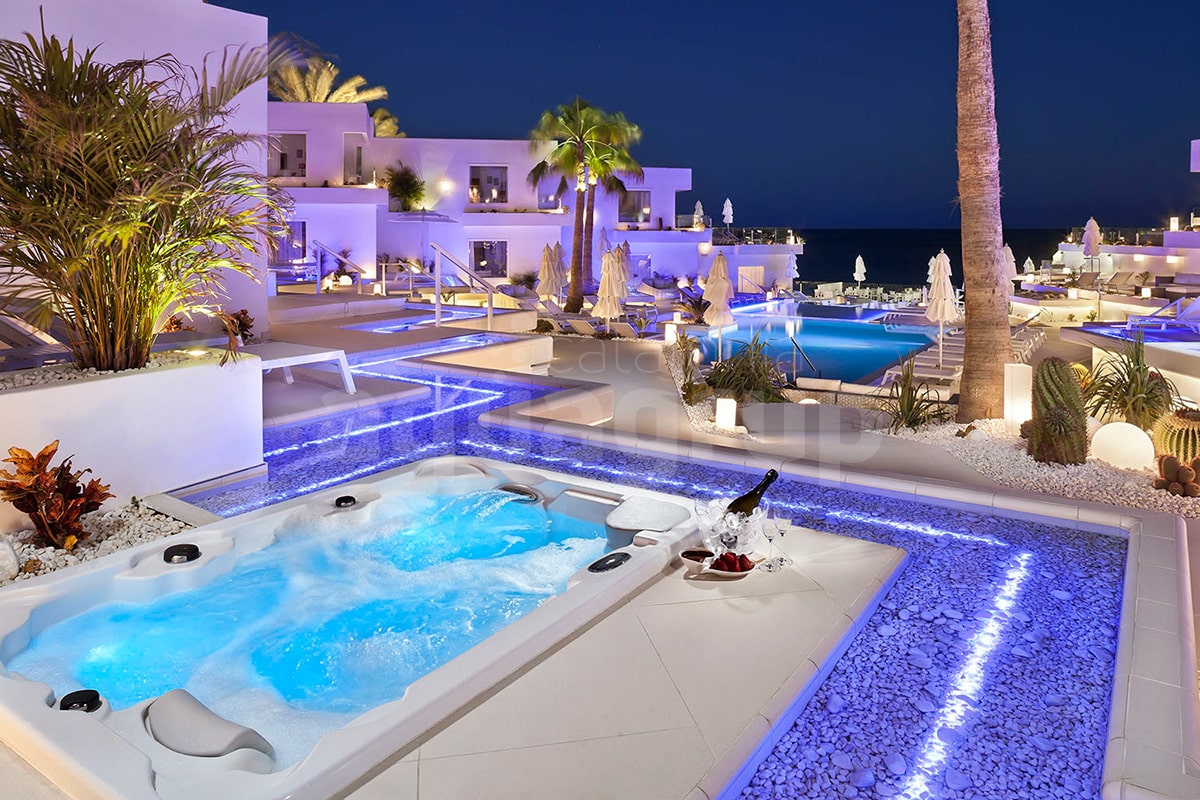 However, if you decide to go for this option, you will need to choose the model that best suits your needs (portable or inbuilt), bearing in mind that it will involve more complex maintenance than other options, and that you won't be able to enjoy it in the colder months, unless you're brave!
Advantages and disadvantages of a mini pool
The main advantage of a mini pool is that you can enjoy all the benefits of a normal swimming pool, but in a smaller space. You won't need an enormous garden. Mini pools can be adapted according to any space issues at your home.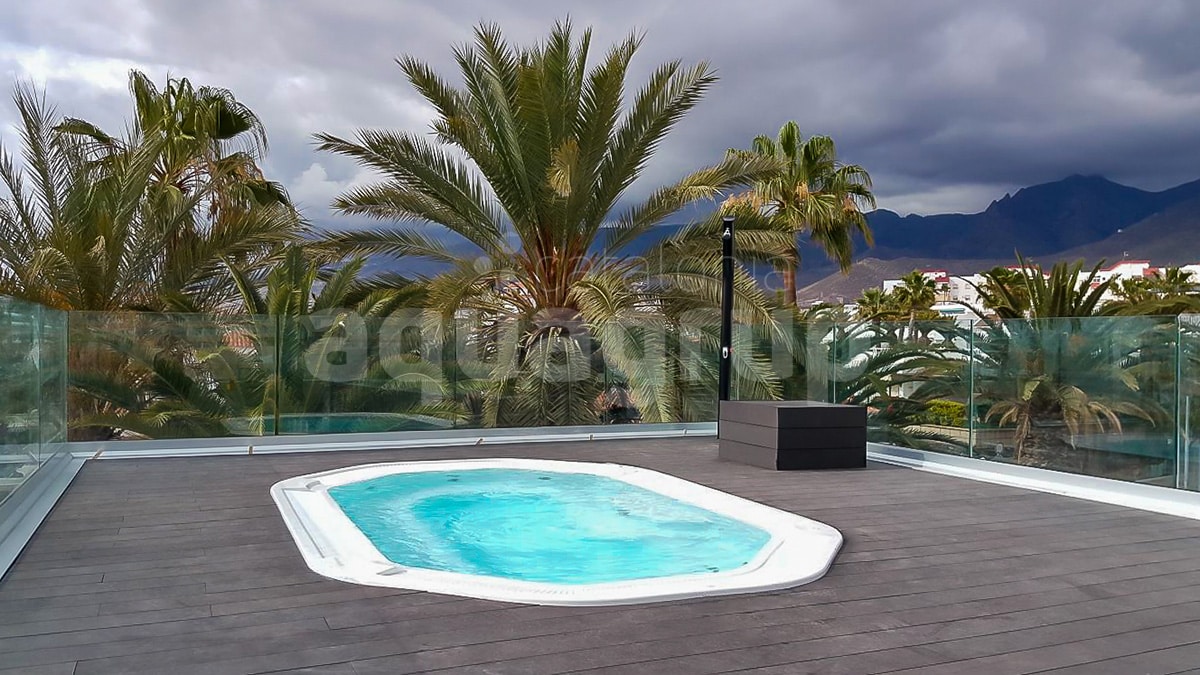 Mini pools are produced according to specific conditions, so they can be adapted to the needs of the customer. They are installed in a very similar way to pre-fabricated swimming pools. The materials used to manufacture them—polyester, expanded polystyrene, fibreglass or stainless steel—are all highly resistant. They can also be significantly cheaper than inbuilt swimming pools. Another advantage is that they are coated in acrylic, which makes them anti-slip and gives them a pleasant texture.
Difference in price between hot tubs, swim spas, swimming pools and mini pools
We've covered everything that you need to consider when installing a swimming pool or hot tub at your home. The space, the design, what you want to use it for, etc. You should take all these factors into account before any installation. To get a clear idea of what you're looking for and what best suits your needs, you should also consider the different prices for each option.
And don't forget that it's not just about the initial purchase, but perhaps even more important is the maintenance of the equipment you choose. If you opt for an inbuilt pool, you will need to obtain permits, carry out construction work and, once your pool has been produced, fill it and keep it in optimal hygienic conditions. You will need chemical products to do this, such as chlorine. Without a doubt, having a swimming pool like this in your garden would be a dream come true, but it's important that you realise how expensive it is.
For a lower price you could enjoy either a mini pool or a swim spa. These also offer the added value of massage jets and exercise, in the case of swim spas, as well as the opportunity to enjoy all the benefits of a swimming pool in a smaller and pleasant space. You can also personalise them to your taste and, most importantly, they can be installed in places as original as a terrace, where you can enjoy the view while you soak.
Hot tubs are probably the cheapest of all the options, depending on what features they offer. They will help you to achieve a better quality of life, which you will really appreciate. The therapeutic properties of hydro massage therapy are well known, as are the benefits of hot water for bone or muscular disorders, cervical strain or stress. It will be the best investment you ever made, that's for certain.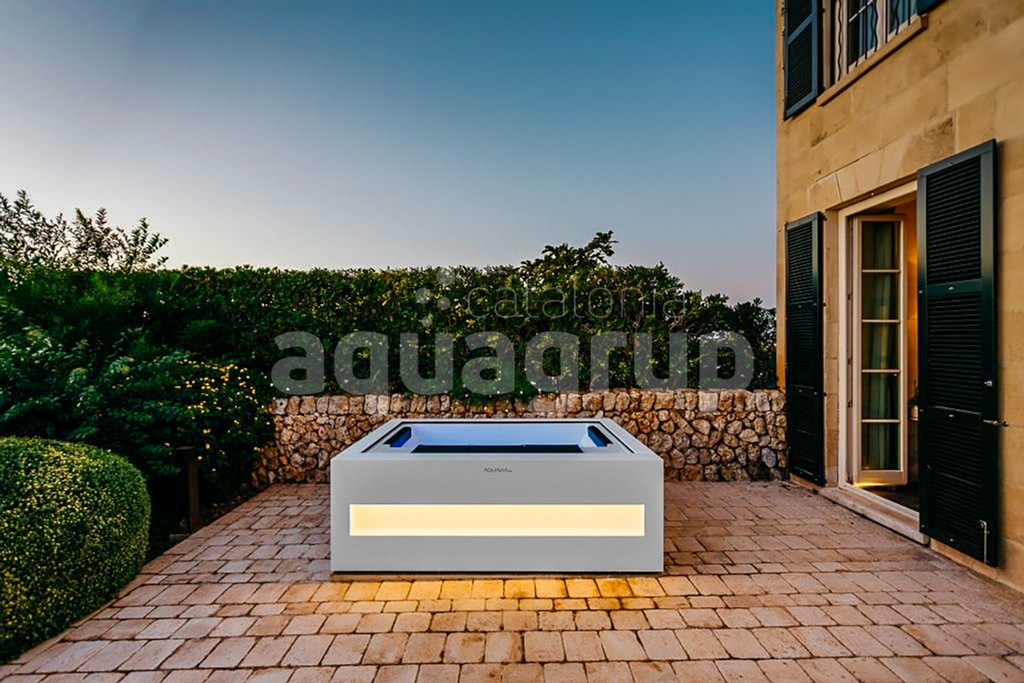 Conclusions
We've now shown you everything you need to know and take into account if you want to enjoy a hot tub, swimming pool or swim spa at home. These types of equipment are essential for luxury hotels, country guest houses or any location where you would expect to find wellness services. Enjoying a swimming pool or hot tub at home will provide you with endless moments of happiness and fun. They offer countless benefits: exercise, stress reduction, better sleep, enjoying a space of your dreams… There are nothing but advantages.
At Aquagrup we have years of experience in this industry and, as a result of our impeccable work and constant drive for improvement, we have managed to become a benchmark company for our customers. We pay close attention to every little detail in the design of our equipment, making sure it runs efficiently and lasts a long time. We only work with the very best materials because we want to achieve the best results. We also supply the two leading quality brands in the industry: Aquavia Spa, with its factory in Spain, and Jacuzzi, a leader on the international market. If you've been thinking about buying a hot tub, swim spa or mini pool for a long time, what are you waiting for? Choose the best equipment now, you won't regret it.