Jacuzzi ® J-435
The Jacuzzi® J-435 offers a modern designed interior ideal for a wide range of body types and heights and is raised using a state of the art process.
This spa has 5 types of seats, including a single jet cooling seat with integrated PowerPro jets. A bespoke treatment for each seat provides a luxurious full-body hydromassage. The waterfall seat is made up of a single jet and a cascade of water to offer a soft tissue experience. A wide sheet of water from the waterfall focuses on soothing your shoulders while the stream invigorates your upper back to relieve tension and stress.
Plus, thanks to the forward-facing lounge, you can fully immerse your body in the water and feel the effects of the jets on your legs and feet, while the PowerPro jets treat your shoulders and back in the process.
The Jacuzzi® J-435 is wrapped in warmth for a much more luxurious spa experience, even in cold temperatures, thanks to its high backrest and modern design.
It also offers adjustable pillows that provide the perfect place to rest your head and add better relaxation for people of different heights. Other modern innovation includes dual-use illuminated diverter sliders that are designed to double as coasters for added comfort.
Distinguishing this spa and optionally included in the range, ProFinish cabinets offer corner lighting and are architecturally inspired to look great in any setting.
SERVICE IN ALL SPAIN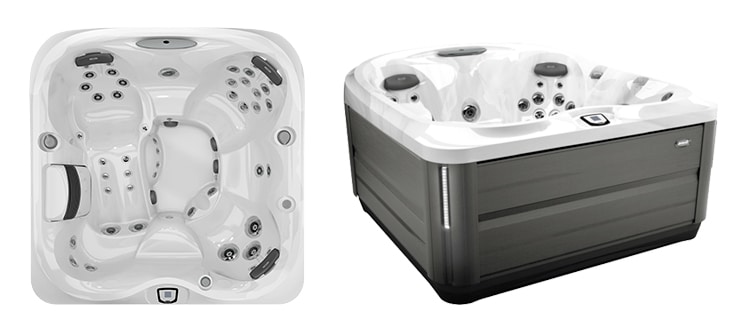 Dimensions 213.36 x 213.36 x 95.25cm
Type of jet PowerPro™
People 5 - 6
Sun lounger Sí

Related spas