Swim Spa Jacuzzi ® J-16 PowerPro™
For swimming and aquatic fitness, the Swim Spa Jacuzzi® J-16 PowerPro™ for swimming is the one that offers the most suitable environment.
From two comfortably adjustable Jacuzzi® PowerPro PX jets, a wide flow swim current is delivered using the unique swim select control.
The current can be adjusted from 0km/h to 10km/h, ensuring that every level, from beginner to triathlete, can find their ideal pace.
The thoughtfully designed interior helps eliminate reflective waves generated from the suction inlets and carefully installed curved sides, helping to create a light current for the complete swimming experience.
The wide current of the Swim Spa Jacuzzi® J-16 PowerPro™ also adds resistance to the core for more effective aquatic exercises. Plus, the underwater treadmill technology provides a low-impact jogging or walking experience that helps control or prevent joint pain that can occur when training on dry land.
In addition, four ergonomically designed seats, including a cooling seat, are equipped with PowerPro jets to offer true Jacuzzi® hydromassage for those who want to relax after a training session or after a long day.
SALES, INSTALLATION AND TECHNICAL SERVICE THROUGHOUT SPAIN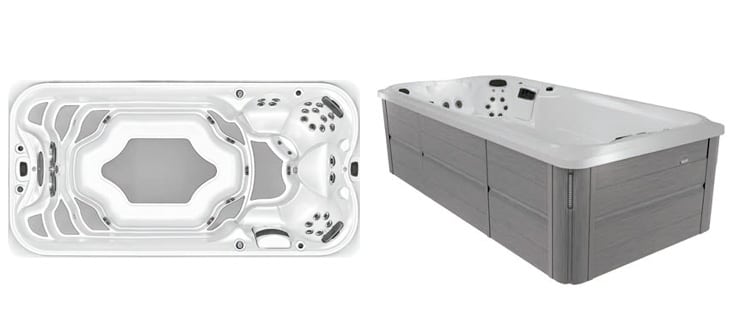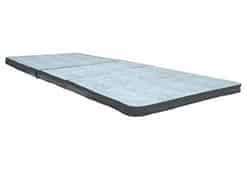 Alaskan Safety Cover
High-resistance heat-sealed cover that is perfect for cold climates because it reduces heat loss.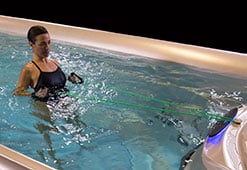 Aquafitness Package (Optional)
This Aquafitness package transforms any swim spa into a universal aquatic gym. Resistance bands add another dimension to your training sessions and can also be used anywhere in the swim spa, within the swim or exercise area. Resistance bands create a wide range of motion that helps promote muscle development.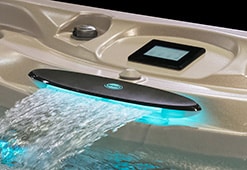 Easy To Use Swim Selector Control
Use from beginner to professional level. Timed Training Mode is for those who follow a very strict training regimen. Training Program Mode has a wide variety of pre-defined workouts. Manual Training Mode offers maximum control over the flow of water. It generates a current of 10 km/h.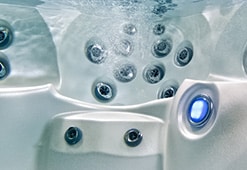 Elite Whirlpool
More jets doesn't mean a better experience, but having the right jets does. We offer you the luxurious massage, based on a perfect mix of air and water and on the careful placement of each PowerPro® swim jet.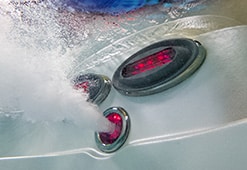 PowerPro Swim Current PowerPro Swim Current
This jet is designed to ensure that the water flows perfectly, generating a smooth current without turbulence that will allow you to enjoy an advanced swimming experience.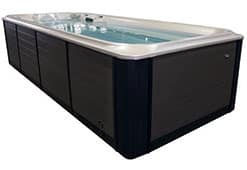 Solid State Rack
This framing is perfect for partially in-ground installations as it offers a strong frame that allows for seamless integration between stone edging or into plank flooring.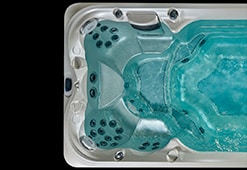 Spa shell design
Optimal design both for relaxing and for swimming. The hip shape in the shell stops reflective waves. Additionally, suctions are located at the seat end to create a conveyor belt effect for water flow.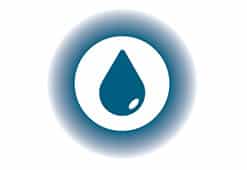 Swirlpool technology
Imitating an enveloping heart hug and bonding with nature while the soft swirl of water flows around your body.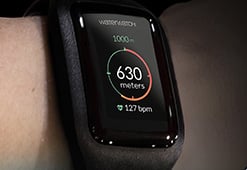 Water watch
It is the only swim watch specifically designed for hot tubs. Wear your trainer on your wrist. Visualize your results. Track your performance: distance, time, caloric expenditure, laps, split times and much more. Compete against other swimmers from around the world. It also has heart rate monitoring with vibration feedback.
28 PowerPro® jets
Filtration: Clearray Active Oxygen
Illuminated waterfall
Fast Drain
Multicolor LED lighting system
Form Goggles Smart Swimming Goggles
284cm useful for swimming
Weight: 1,162 Kg
Total filled weight: 8,799 Kg
Volume: 7,638 l
Dimensions 236 x 472 x 135cm
Type of jet PowerPro® PX
People 2 - 3

Related spas